Marine Energy: Get more devices in the water
Ocean energy can answer some challenging policy question, but it will require both industry and government to consider marine energy. For this to happen, marine energy companies need to speak with unified voice and focus more on solutions than on problems as the government and investors need more proven facts and figures to show more support.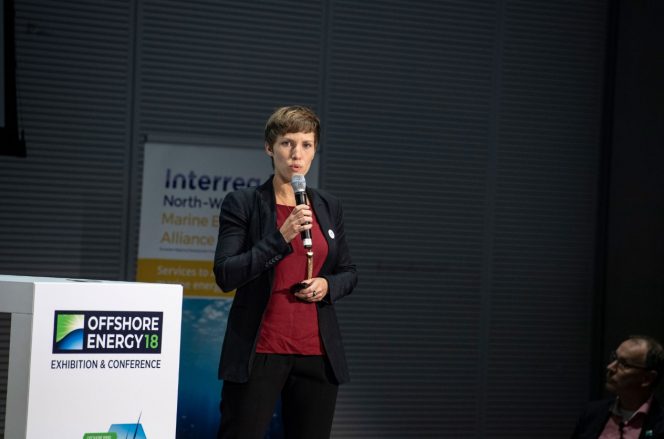 ---
It was Marlène Kiersnowski, Tidal Development Manager at  Énergie de la Lune S.A.S who during Marine Energy Event 2018 emphasized the importance of putting more devices into the water, and demonstrating that the technology is working, and in her own words – 'working well.'
Also, according to Kiersnowski, it is important to start small to be able to scale up – at least in the SEENEOH's philosophy. The SEENEOH (Site Expérimental Estuarien National pour l'Essai et l'Optimisation d'Hydroliennes) test site is located on the Garonne River in the French city of Bordeaux.
This ongoing project has received funding from the European Union's Horizon 2020 research and innovation program to develop and commercialize small-scale hydrokinetic turbines for river and estuary applications. SEENEOH has three available berths which are connected to the onshore substation by the way of an export cable.
The berths are designed to accommodate tidal devices with either mounted or floating fixation type. The grid connection has a total capacity of 250kW. The performance and the environmental impact of each tested technology are monitored through a well-designed instrumentation system that will be scaled according to the developer's specifications.
Trials at work
The SEENEOH site manager presented the case studies from the site, showing HydroQuest and DesignPro Renewables tidal turbines currently under trials at the center, also revealing that a working group has been established to explore the possibility of SEENEOH becoming the operator of another tidal test site – the Paimpol-Bréhat site, located off Brittany in France.
In November last year  the official launch of the Irish start-up DesignPro Renewables' successful deployment of its first 25kW device at the SEENEOH test site. DesignPro Renewables' technology comprises two vertical axis turbines placed on each side of a teardrop shaped vessel.
The vessel, coupled with the blade pitch control system, speeds up the water into the turbines to produce significant energy in low flows of water, according to DesignPro. At SEENEOH, the device will undergo extensive operational and environmental testing and power curves will be verified by the internationally recognized Bureau Veritas standard.
Home of energy transition
Offshore Energy Exhibition and Conference (OEEC) is where the energy transition takes place. It is Europe's leading gathering of the entire offshore energy industry and your opportunity to network with highly qualified experts and professionals across global markets – 7, 8 and 9 October in Amsterdam.
OEEC is unique in bringing together the offshore energy industry sectors oil & gas, offshore wind and marine energy, yet there are many more elements that make the event a must-attend. For more information on the event head to www.offshore-energy.biz.
Related news
List of related news articles