Masdar agrees to explore green hydrogen exports from Abu Dhabi to Europe
Abu Dhabi-based clean energy company Masdar and four Dutch companies have signed a memorandum of understanding (MoU) to explore the development of a green hydrogen supply chain between Abu Dhabi and Amsterdam.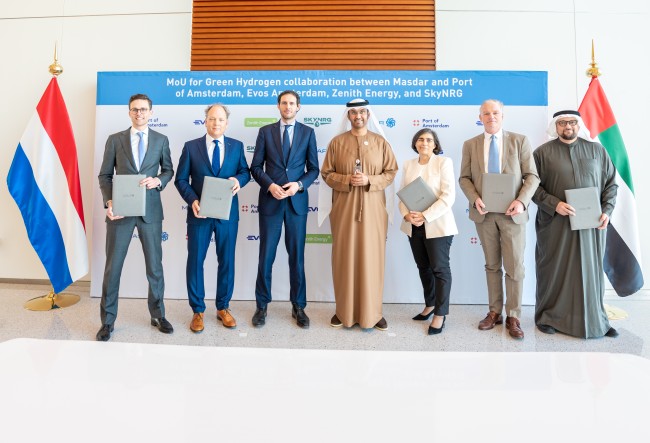 The MoU was signed by the representatives of Masdar, Port of Amsterdam, SkyNRG, Evos Amsterdam and Zenith Energy Terminals to assess green hydrogen exports from UAE to support Dutch and European markets.
The parties agreed to join their efforts to develop a green hydrogen supply chain, focusing on production in Abu Dhabi and export to the Netherlands through the port of Amsterdam.
The exported green hydrogen will be delivered to key European sectors – sustainable aviation fuel (SAF), steelmaking, and bunkering for shipping – and will also be supplied to new, emerging European offtakers, via pipeline, truck and barge.
In line with this, the parties will explore several hydrogen transportation methods, with a focus on liquid organic hydrogen carriers and liquid hydrogen.
Sultan Ahmed Al Jaber, UAE Minister of Industry and Advanced Technology, COP28 President-Designate, and Chairman of Masdar, said: "This agreement builds upon the existing relationship between the UAE and the Netherlands and demonstrates our mutual commitment to exploring low- and zero-carbon energy solutions.
"The UAE aims to play a central role in the emerging green hydrogen economy and this partnership with the Port of Amsterdam and associated players in the green hydrogen space would help position Abu Dhabi as a key hub for green hydrogen development."
Mohammed Jameel Al Ramahi, CEO of Masdar, added: "Masdar believes green hydrogen to be a promising energy source for hard-to-abate sectors in support of global decarbonisation, which is why we launched our dedicated green hydrogen business last month."
Port of Amsterdam, together with Evos and liquid organic hydrogen carriers (LOHC) market-leading pioneer Hydrogenious is developing large-scale import facilities for hydrogen at the port of Amsterdam.
Koen Overtoom, CEO of Port of Amsterdam, commented on the new MoU: "We are very pleased with this new collaboration. SkyNRG, Evos and Zenith Energy Terminals are driving forces behind the hydrogen developments in the port of Amsterdam and they are key to our goal of importing at least one million tonnes of green hydrogen annually. Joining forces with a party as renowned as Masdar, will bring this goal that much closer to realization. Together, we can bring the envisioned Abu Dhabi-Amsterdam connection to fruition."