MEYER Group gives a glimpse of future fossil fuel-free cruise ships
MEYER Group, an international consortium specializing in cruise shipbuilding, has presented a cruise ship concept that manages without fossil fuels.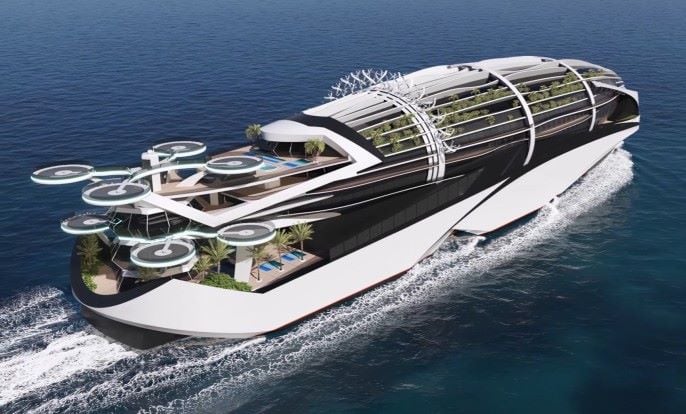 MEYER presented the "Reverse" concept – a concept that shows what a cruise ship could look like in the year 2100 – at the global cruise trade fair in Fort Lauderdale, Florida.
The exterior of this ship concept is inspired by the rock penguin and is equipped with a closed glass facade and urban gardening areas as well as drone landing pads, central public areas form the focal point inside the ship.
"The ship is based on global megatrends and is one – but not the only – logical response to them", explains Tim Krug, Head of Concept Development Group at MEYER Group.
The energy concept on board also relies on innovation, using of wave energy through horizontal wings on the hull, solar and fuel cells as well as wind energy to manage without fossil fuels, MEYER said.
This year, the group's shipyard in Germany, Meyer Werft, will deliver a new eco-friendly cruise ship for Silversea Cruises, the Silver Nova. Just like its sister ship, the Silver Ray, the vessel will be fitted with dual-fuel LNG engines complemented with a fuel cell system with an output of 4 megawatts.
MEYER's German shipyard teamed up with German battery technology company Freudenberg e-Power Systems and Royal Caribbean Group to develop a completely new fuel cell system tailored to the maritime sector.
This has been a multi-year project aiming to create a fuel cell system for ships, which will power Royal Caribbean Group's Nova class ships and represent a significant step toward achieving a net zero newbuild. The partners expect the first maritime demonstrator system will be completed later this year as work continues toward the full-scale application.
Additionally, two more LNG-fueled cruise ships for Royal Caribbean International are under construction at Meyer Turku in Finland. One of them, Icon of the Sea, is deemed the largest cruise ship in the world and will be delivered later this year. The second ship entered the construction phase on 15 February with the traditional steel cutting ceremony.
A few days ago, the block assembly of Mein Schiff 7 also started at Meyer Turku. The latest vessel for TUI Cruises will be among the first to be ready for methanol and green methanol in the future, making its operation almost climate neutral.