Moss Maritime's LH2 carrier containment system gets DNV's nod
Moss Maritime, a Norwegian company specialized in design and engineering services to the offshore energy industry and a subsidiary of energy major Saipem, has received approval in principle (AiP) from classification society DNV for a containment system for ship transport of liquefied hydrogen (LH2).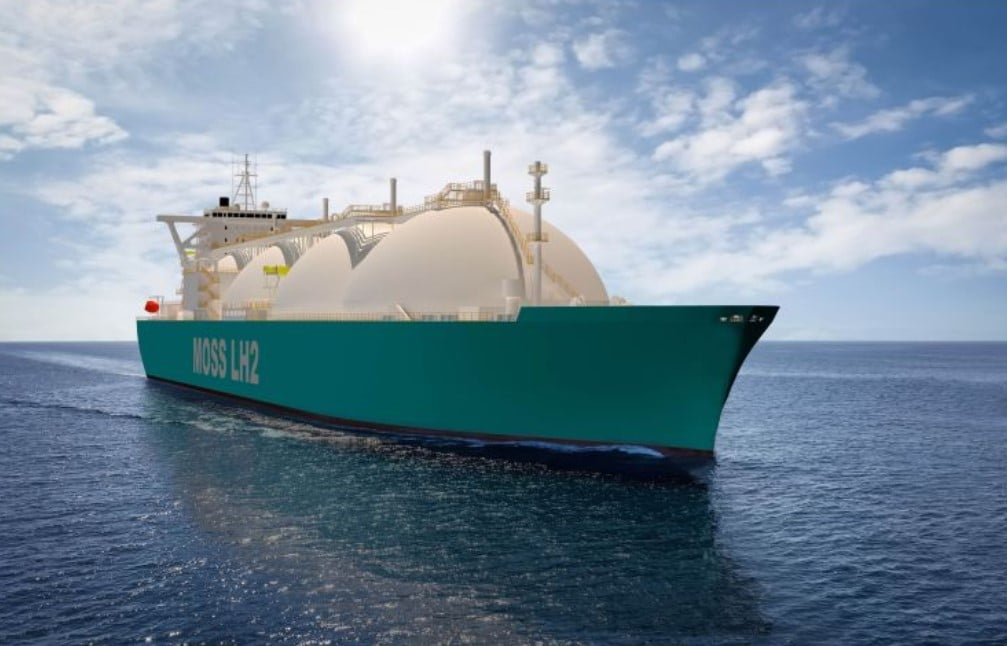 The LH2 containment system design is inspired by the Moss LNG spherical containment system. The company's LNG tank technology has been modified and upgraded to meet the strict requirements for transport of LH2 at a temperature of -253°C.
Moss Maritime has developed the design in cooperation with the Norwegian research institute SINTEF, as well as having received technical support from DNV and funding from the Research Council of Norway.
The firm has also been supported by Shell International Trading and Shipping Company Limited, Equinor Energy, and TotalEnergies EP Norge, who have participated in, the design development.
"Moss Maritime is very pleased to have been granted this Approval in Principle by DNV, which represents a significant milestone. We particularly appreciate the strong support and interest from Shell, Equinor and TotalEnergies. Thanks to our design, we are ready to bring forward this new technology to the shipping industry," said Tor Skogan, Vice President Gas of Moss Maritime.
"The awarding of this AIP marks an important milestone for companies working in collaboration at the forefront of innovation in this sector. It is a step in the right direction towards the realisation of our shared vision for the safe, large-scale and commercial shipping of zero-carbon energy", stated Stephen Brown, Technology Manager at Shell.
"We are happy to be able to issue this Approval in Principle (AIP) to Moss Maritime for their LH2 carrier containment system. Transporting LH2 by sea is an important step towards our shared green energy aspirations. We look forward to working with them as the project progresses," noted Martin Cartwright, Global Business Director Gas Carriers and FSRUs at DNV.
Low-carbon hydrogen offers a promising solution to decarbonise hard-to-electrify industries as well as heavy-duty terrestrial mobility, long-distance aviation and maritime shipping.
Hydrogen is also a solution for large-scale energy storage and could be used to generate distributable power to complement intermittent solar and wind power sources. In the future, continents such as Europe or some Asian countries may need to import hydrogen on a large scale to complement domestic production.
The ability to transport by sea very large volumes of hydrogen in the liquefied form at -253°C is one of the major technological challenges to be overcome to set up a reliable, efficient and competitive global carbon-free hydrogen value chain.