MSC Cruises cuts first steel for its first LNG-powered vessel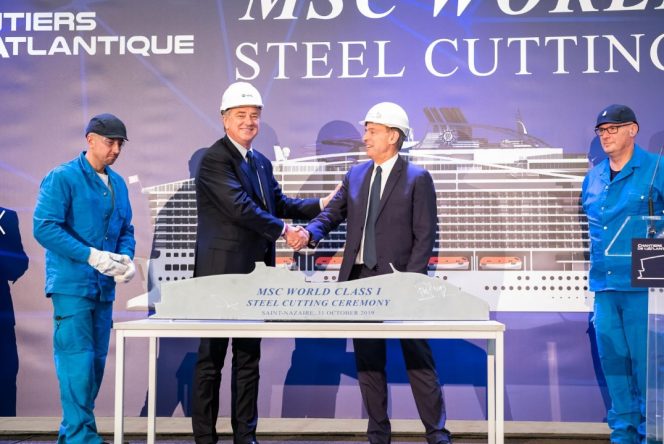 ---
French shipbuilder Chantiers de l'Atlantique has held a steel-cutting ceremony for MSC Cruises' LNG-powered cruise ship MSC Europa.
The dual-fueled vessel is scheduled for delivery in May 2022 and is the first of five new liners MSC ordered from the French shipbuilder between 2017 and 2018.
It is worth noting that the MSC Europa will also be the first LNG-powered ship built in France.
The vessel will be based on a design known as the "World Class" which will have a gross tonnage of 200,000, with more than 2,700 staterooms, and approximately 5,400 lower berth occupancy capacity.
To remind, MSC Cruises signed a letter of intent with Chantiers de l'Atlantique, then named STX France, for the construction of up to four LNG-powered cruise ships in 2016.
Under the LOI, the first of four liners would be delivered in 2022 while the other three would be delivered in 2024, 2025, and 2026. At the time, the total order cost for the quartet stood at $4.5 billion.
The order was a part of MSC's 10-plus year investment plan from 2014 through 2026. At the time, the investment was valued at $10.2 billion.
In June 2018, MSC Cruises ordered its fifth LNG-fueled cruise ship from STX. The agreement for the additional ship was an additional investment of $1.06 billion.