MSC Cruises says it will meet the 40 pct reduction target ahead of 2030
MSC Cruises, the cruise division of Swiss shipping giant MSC Group, has achieved a drop in carbon emissions intensity worth 33.5 percent since 2008, and is on track to achieve its 40 percent reduction target ahead of 2030, the company revealed in its sustainability report for 2022.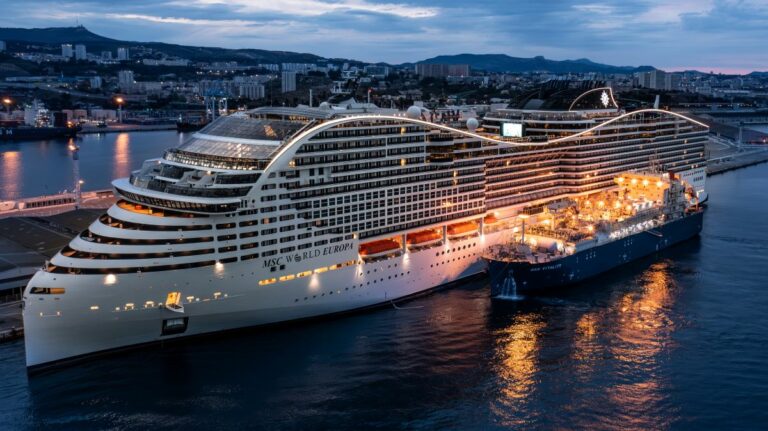 "We continue to scrutinise every mile of our itineraries resulting in an average speed of 15.75 knots across our fleet in 2022, down from 17.55 in 2018 – a 10% reduction. We continue to advance the digitalisation of our energy efficiency programme. In 2022, we completed the installation of Oceanly Performance on all ships in our fleet. This platform enables the continuous monitoring of thousands of raw data points on the position, speed, weather, engine load, flow meters, fuel consumption, torque meters, and all other onboard equipment connected to a central data collector," the company said.
The cruise major aims to become carbon neutral by 2050, however, as the company grows its fleet its absolute carbon emissions are on the rise as well.
As explained by Pierfrancesco Vago, Executive Chairman of MSC Cruises, achieving net zero emissions will require more than finding further operational efficiencies, meaning investments in new technologies and making the switch to renewable fuels.
MSC Cruises has opted for LNG as a cleaner alternative to conventional marine fuels.
The cruise major has invested around €3 billion in three LNG-powered cruise ships: the first, MSC World Europa, set sail in December 2022; the second, MSC Euribia, joined the fleet in June 2023; the third – MSC World America – is currently being built by Chantiers de l'Atlantique and will be launched in 2025.
In addition to LNG, shore power is an important part of the company's decarbonization efforts.
MSC is expanding the number of ports where its ships can plug into shoreside electricity grids to at least 15 new ports between 2024 and 2026.
The new 2024-2026 shore power plan includes Miami, along with Barcelona and Valencia, Spain; Stavanger and Norfjordied, Norway; Copenhagen, Denmark; Marseille, France; Rotterdam, the Netherlands; Valletta, Malta; Stockholm, Sweden; and at least five Italian ports.
Shore power capability has been fitted on all of MSC Cruises' new ships since 2017. Together with retrofits completed on other vessels, 67 percent of MSC Cruises' total capacity is equipped with the technology. More ships will be retrofitted as the ports on their respective itineraries make shore power available.
Another major milestone for the company was in March 2022 when it broke ground on its new $350 million mega cruise terminal in Miami which, when it opens in late 2023, will be able to accommodate the company's largest and most environmentally advanced cruise ships.
The company has 21 cruise ships in its fleet in 2022.