MSC Euribia set to ply on world's 1st net-zero cruise voyage using bio-LNG
The Cruise Division of MSC Group has revealed that its liquefied natural gas (LNG)-powered cruise ship MSC Euribia will operate the industry's first cruise with net-zero greenhouse gas emissions.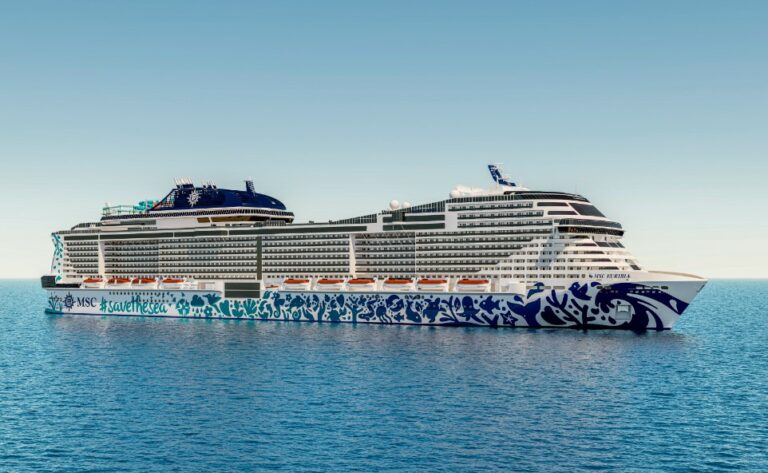 As informed, the voyage will be the ship's first upon leaving its shipyard in Saint-Nazaire as it sails to its naming ceremony in Copenhagen, Denmark.
The new ship will sail for four days from Saint-Nazaire to Copenhagen, achieving net-zero greenhouse gas emissions to demonstrate that net-zero cruising is possible today, the company highlighted.
For this purpose, MSC Cruises purchased 400 tons of bio-LNG to show its commitment to the deployment of drop-in renewable fuels and energy transition measures.
The net-zero sailing will use bio-LNG by virtue of a mass-balance system. The entire supply chain will be fully compliant with the European Union's Renewable Energy Directive, commonly known as RED II, and each individual batch of the total bio-LNG produced has been certified by the International Sustainability & Carbon Certification.
Furthermore, MSC Cruises' shore-based energy efficiency experts based in London will continuously monitor and optimize all systems on board to minimize energy demand, identifying additional opportunities to improve energy efficiency in real-time while maintaining high comfort for all guests on board.
This will include a range of measures from the configuration of the engines down to the speed of individual air-conditioning fans in guest cabins, together with the itinerary and speed optimization.
All of the combined initiatives are expected to save energy to reduce fuel consumption.
"This industry-first net zero gas emissions voyage of our latest flagship MSC Euribia heralds another significant step on our decarbonization journey and demonstrates more than anything the extent of our commitment," Pierfrancesco Vago, Executive Chairman of the Cruise Division of MSC Group, said.
"Given the absolute importance of alternative fuels for our industry as well as for other sectors across civil society to achieve decarbonization, we all need to work together to increase their availability at scale. Our purchase of bio-LNG will send a clear and meaningful signal to the market that there is demand from cruise lines and the broader maritime industry for cleaner fuels, but we need governments, producers, and end-users to collaborate and scale-up the availability of these much-needed and new sources of power," Vago continued.
MSC Euribia will depart from France on 3 June and is scheduled to arrive in Denmark on 7 June. MSC Cruises is being supported by Nordic energy company Gasum for the net zero greenhouse gas emissions voyage.
"MSC Euribia's first voyage will be an incredible feat and represents years of commitment and determination. It should prove that we have the capability to operate on a net zero greenhouse gas emissions basis with existing ship technology. This is just the beginning. We are committed to this transition and putting in place everything we can do to facilitate it. It cannot be done without alternative fuels such as bio-LNG, e-LNG, green hydrogen or green methanol being made widely available at scale to fully realize the vision of net zero cruising," Michele Francioni, SVP, MSC Cruises, noted.
To remind, the construction of MSC Euribia started back in 2021. A steel-cutting ceremony for the vessel was held at Chantiers de l'Atlantique's shipyard in France in June 2021. Recently, the cruise ship also completed deep-water intensive systems tests during a four-day trial in the Atlantic Ocean.
MSC Cruises' newbuilds are fuel-flexible ships that can accommodate a variety of renewable fuels available today and expected in the future.
The company claims that the use of fossil LNG already achieves up to a 20 per cent reduction in greenhouse gas emissions when compared to conventional marine fuels, and virtually eliminates all sulphur oxide and particulate emissions while also reducing nitrogen oxides by 85 percent.