NOPSEMA looking at BHP's Crosby light well intervention plan
Australia's National Offshore Petroleum Safety and Environmental Management Authority (NOPSEMA) has taken BHP's plan for the Crosby-3H1 light well intervention under consideration.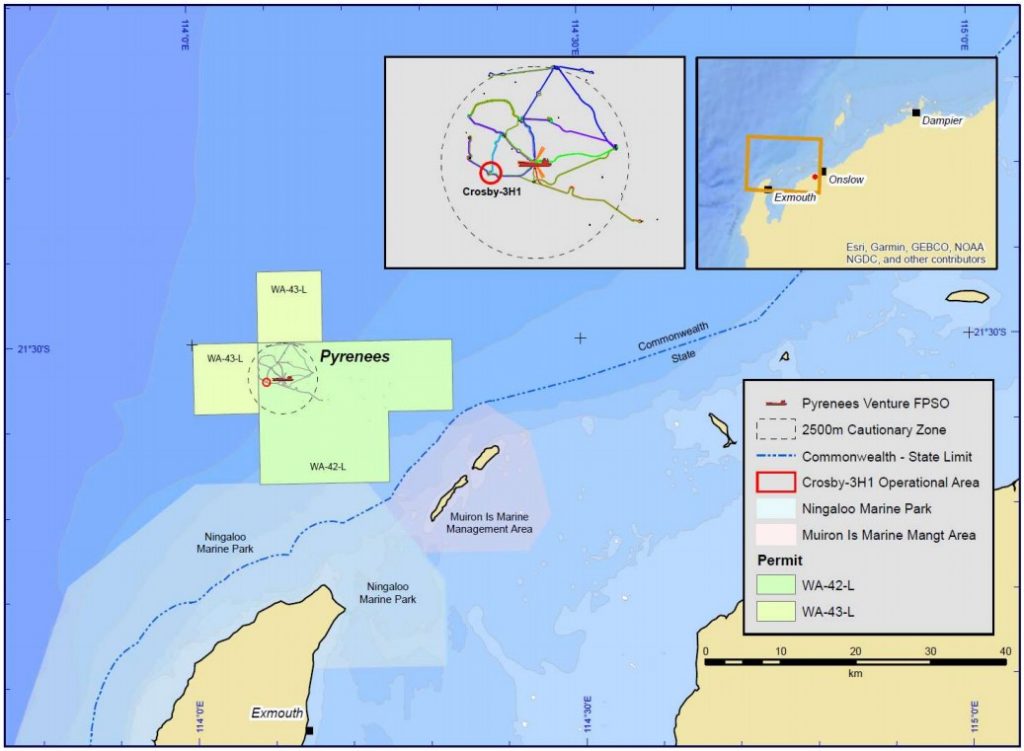 According to data from NOPSEMA, BHP submitted the plan for Crosby-3H1 light well intervention (LWI) on 5 June 2020.
Namely, BHP is planning to undertake riserless LWI activities on the Crosby-3H1 well located in production licence area WA-42-L in Commonwealth waters, which forms part of the Pyrenees development.
The Pyrenees development recovers crude production from six fields located in WA-42-L and WA-43-L licences using the Pyrenees Venture FPSO.
The closest landfall to BHP's well is the Cape Range Peninsula some 27 kilometres to the southeast. The water depth in the operational area for the activity is around 200 metres, with the Crosby-3H1 well located in 197 metres.
The operational area is also near several other marine areas. The Commonwealth / State waters boundary is only 17 kilometres away while the Ningaloo Marine Park boundary is 13 kilometres to the south.
The Muiron Islands Marine Management Area is 20 kilometres southeast and the North West Cape is 27 kilometres southeast.
As for the well, it is a dual-lateral well originally drilled in 2010 with a second lateral drilled in November 2015.
Crosby-3H1 requires artificial gas lift operation to produce from the well. To reduce excessive water production from the dual-lateral well, BHP proposes to isolate the water producing lower lateral to enable the remaining upper lateral to increase the oil production performance.
The common term given to this technique applied to solve excessive unwanted water production is water shut-off.
The LWI activities will be undertaken using a vessel which will conduct intervention activities utilising riserless subsea intervention equipment and wireline technology.
BHP's activities will be short, with the LWI vessel expected to be on location in the production licence area for up to 14 days. The LWI activities will take place 24 hours a day, 7 days a week.
To account for potential delays or schedule changes, the environmental assessment encompasses the petroleum activity occurring at any time of year.
According to the plan, the earliest expected start time is September 2020, pending vessel and equipment availability.
Related news
List of related news articles