NTS splashes Himalaya Shipping's LNG dual-fuel bulker duo
Chinese shipbuilder New Times Shipbuilding (NTS) has held a launching ceremony for two liquified natural gas (LNG) dual-fuel bulk carriers owned by Himalaya Shipping.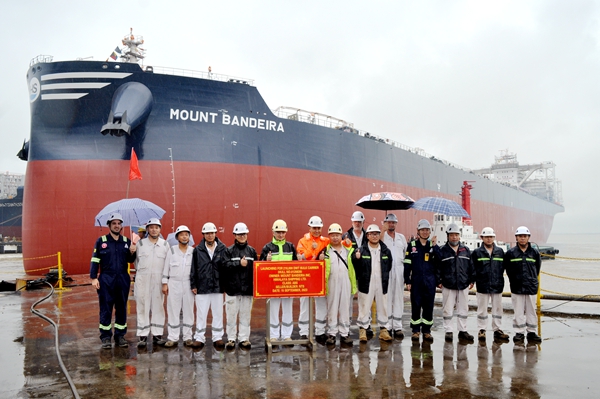 As informed, the launching ceremony for the two 210,000 dwt vessels took place on 15 September. Himalaya Shipping has ordered twelve 210,000 dwt dual-fuel bulkers from NTS. The shipbuilder now launched the seventh and eight vessel in this series.
The vessels were named Mount Bandiera and Mount Hua, according to NTS.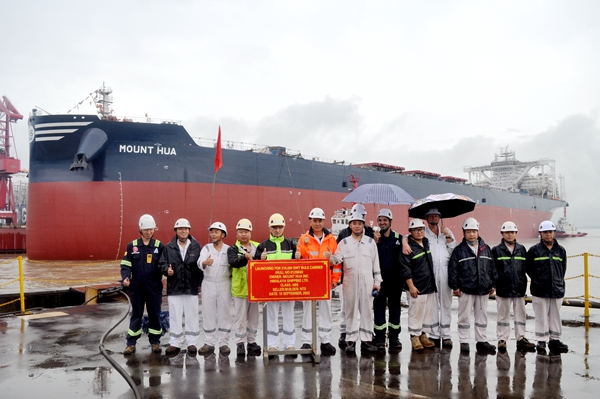 This type of 210,000 -ton dual-fuel powered bulk carrier has an overall length of 299.95 meters, a length between two pillars of 294.75 meters, a molded width of 50.00 meters, a molded depth of 25.20 meters, a design draft of 18.40 meters, and a structural draft of 18.48 meters.
Himalaya expects that, by using LNG as a fuel, emission reduction will be achieved and the vessels will comply with the latest environmental requirements introduced by the International Maritime Organisation (IMO).
To remind, last month, NTS delivered sixth of twelve 210,000 dwt Newcastlemax LNG dual-fuel newbuildings to Himalaya. According to the shipowner, Mount Neblina will now commence a minimum 24-month time charter with an evergreen structure thereafter and will earn an index-linked rate.
The ships will be fitted with scrubbers allowing them to run on high-sulfur fuel oil as well as LNG and low-sulfur fuel oil with the design that will also allow for future conversion to next-generation fuels.
They will also feature ABB's shaft generators with a power-take-off (PTO) solution, comprising new drive systems and permanent magnet technology.
The ships will run on MAN ME-GI high-pressure LNG dual-fuel engine, which in combination with in-line shaft generator the concept offers low methane slip.