NTS starts construction of Himalaya's dual-fuel 210,000 dwt bulker
Chinese shipbuilder New Times Shipbuilding (NTS) has started the construction of a new dual-fuel bulk carrier for Bermuda-based shipping company Himalaya Shipping.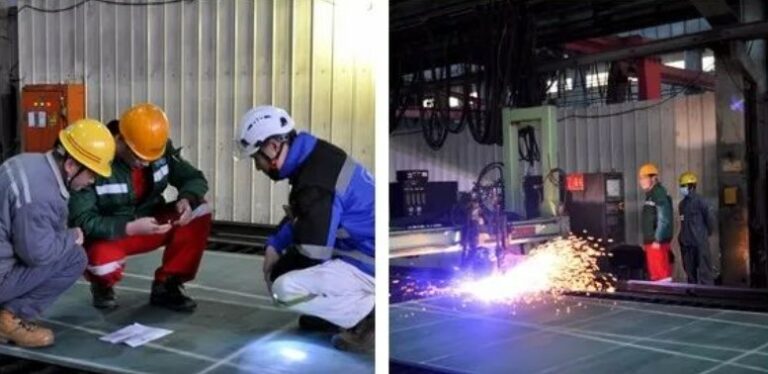 The steel cutting ceremony was held at the company's shipyard on 17 February. The vessel has an overall length of 299.95 meters, a molded width of 50 meters, a molded depth of 25.2 meters, a design draft of 18.4 meters, and a structural draft of 18.48 meters. The cargo hold capacity includes slop tanks and residual tanks.
In August last year, Himalaya Shipping decided to install scrubbers on the entire fleet of twelve vessels presently under construction at New Times Shipyard.
"After installation of scrubbers, the ships will have the ability to be fuelled with LNG, LSFO or HSFO. This offers significantly increased flexibility for our customers and will be valuable in the ongoing employment discussions. Based on the current spot pricing of LSFO versus HFO in Singapore the scrubber investment is estimated to give a total benefit of $7,500/day when sailing, and based on our expected share of scrubber benefit the investment is expected to be paid back in less than 1.5 years," the company said in a comment.
The vessels will be fitted with ABB's shaft generators with a power-take-off (PTO) solution, comprising new drive systems and permanent magnet technology.
The new equipment is anticipated to improve the energy efficiency of the vessels by up to 4 percent while saving about 20 percent of space onboard compared to a conventional solution, according to ABB.
What is more, the higher power density enabled by ABB's solution is expected to reduce fuel consumption and emissions. Therefore, the ships' energy systems could align with goals set out in the International Maritime Organization (IMO) Energy Efficiency Design Index (EEDI) and Carbon Intensity Index (CII), the firm stated.
In November last year, NTS launched two LNG dual-fuel bulk carriers being built for Bermuda-based shipowner.