Partners set up measurement system on SolarDuck's floating solar unit
Several European companies have collaborated to set up the measurement system and data analytics platform on SolarDuck's offshore floating solar unit in the Netherlands.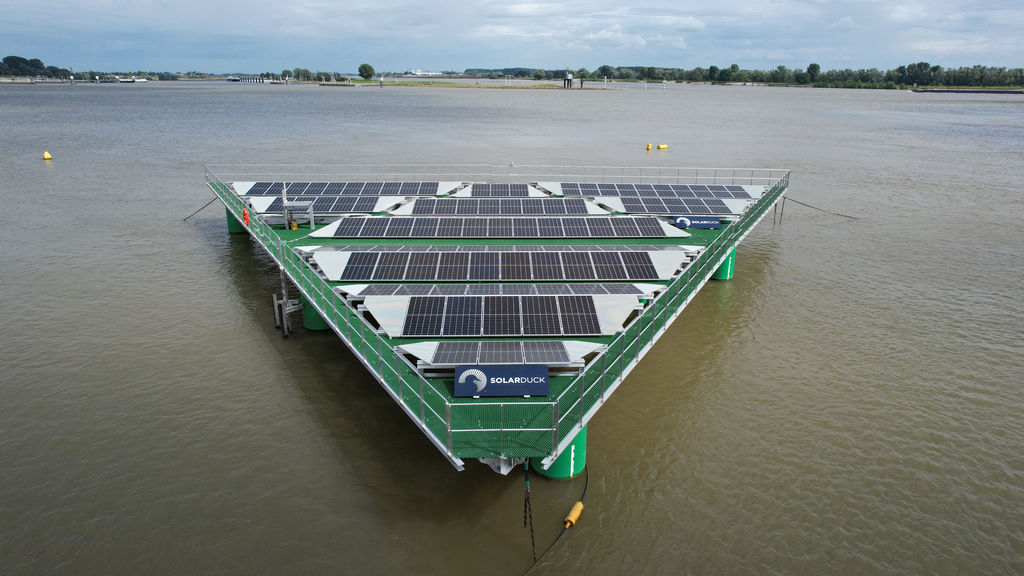 CDES Services, Weidmüller Benelux, meteocontrol and SolarDuck installed the systems on SolarDuck's first pilot 64kWp unit dubbed 'King Eider'.
In this special project, meteocontrol provided the sensoring including its Blue'Log, compact weather station and pyranometer.
Weidmeuller supplied its RS485/422 datasurge protection, voltage arrester and 4G VPN router, while CDES took charge of the engineeering and installation with SolarDuck providing an off-grid power supply to the system.
According to SolarDuck, these measurements will be condcuted to check the performance of different types of Astronergy Solar modules donated by Chint Solar Nederland using different rear-side cover materials – a standard backsheet, a glass backsheet in bifacial module design and Endurans HP, the high performance co-extruded backsheet of Endurans Solar.
Launched in April 2021 in IJzendoorn in the Netherlands, SolarDuck's King Eider unit consists of four triangular-shaped units, which are mounted by 156 solar panels.
SolarDuck's floating solar solution has also received Approval in Principle (AiP) from the certification group Bureau Veritas, deemed as the world's first for offshore floating solar energy, and marking the beginning of a new era for this form of renewable energy.