PHOTOS: World's 1st green methanol-fuelled boxship arrives in Singapore for bunkering
The world's first green methanol-powered containership owned by Danish shipping giant A.P. Moller Maersk has arrived in Singapore for bunkering.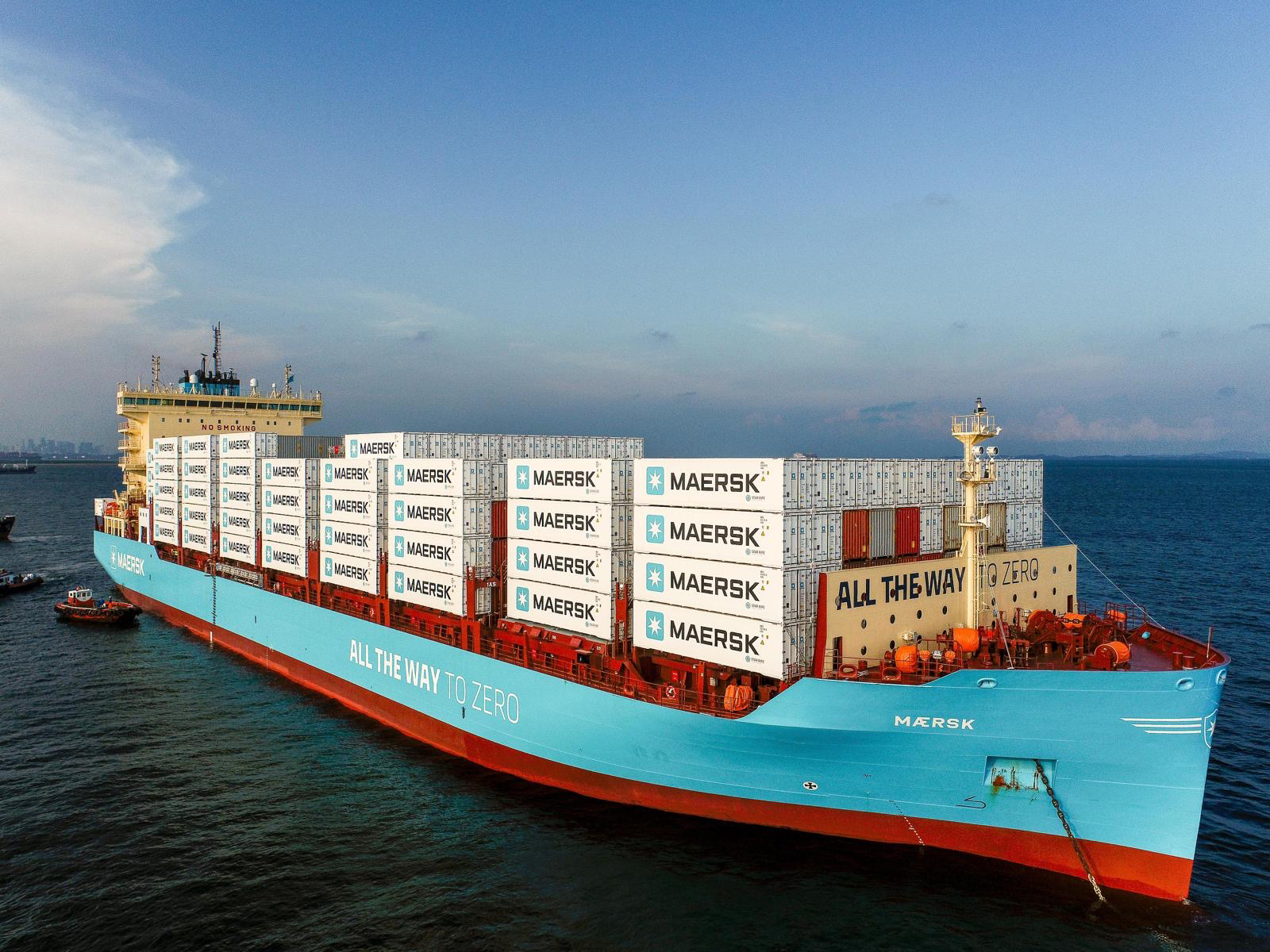 Maersk and Hong Lam Marine Pte completed the first ship-to-containership methanol bunkering operation of the container vessel on 27 July at the Raffles Reserved Anchorage in Singapore, with the support of the Maritime and Port Authority of Singapore (MPA), government agencies and research institutes.
The ship was refuelled with approximately 300 metric tonnes of bio-methanol via Hong Lam Marine's Singapore-registered tanker, MT Agility.
The biomethanol bunkering operation took place at Vopak's Sakra industrial terminal with a bunker barge transferring biomethanol fuel supplied by OCI Fuel to the world's first methanol engine container vessel owned by Maersk.

Vopak is the storage infrastructure partner for biomethanol supplied by OCI in this operation. Vopak handles a majority of the methanol in Singapore and the company is gearing up for other low carbon fuels like ammonia, hydrogen, co2 and redox batteries.

"Building on 40 years of experience in Singapore, Vopak has been safely storing and handling critical energy and chemical products for our customers across various industries. For a low-carbon future, we are working towards infrastructure solutions related to hydrogen, ammonia, CO2, biofuels, recycled chemicals as well as solar redox batteries. As the maritime industry engages in the energy transition, they can leverage on our proven expertise and assets in safely storing and handling ammonia and biofuels such as biomethanol," said Rob Boudestijn, President of Vopak Terminals Singapore.
The feeder received its first green methanol in Port of Ulsan, South Korea, before it set sail for Copenhagen as part of its maiden voyage. A naming ceremony will be held in September. The ship's godmother will be the president of the European Commission Ursula von der Leyen.
As part of the risk and environmental impact assessment for the methanol bunkering operation, MPA reviewed methanol-related incidents globally and worked with the Meteorological Service of Singapore to provide advance lightning risk warning if required. A methanol plume model was jointly developed by the Institute of High Performance Computing (IHPC), A*STAR, Tropical Marine Science Institute (TMSI), National University of Singapore, and the Technology Centre for Offshore and Marine, Singapore (TCOMS), to forecast the dispersion path of the methanol plume in an event of an accidental methanol release and guide operations.
During the methanol bunkering operation, researchers from the Cambridge Centre for Advanced Research and Education in Singapore flew drones equipped with methanol detector with plume modelling capabilities and infrared camera from MPA's patrol craft MPA Guardian to augment the detection of potential methanol leaks into the atmosphere and methanol flames in an event of an accidental leak.
"The success of the methanol bunkering operation is a result of nearly a year's preparations with various government agencies, research institutes, international collaborators, and industry to develop rigorous safety procedures through in-depth operational and risk assessments, modelling, and validation. This operation will help inform the development of the various standards, including the Technical Reference for methanol bunkering operations in Singapore, and guide our approach for future pilots and trials of new marine fuels," Teo Eng Dih, Chief Executive, MPA, said.
"A.P. Moller – Maersk is excited to collaborate with the Maritime and Port Authority of Singapore, Mitsui & Co., American Bureau of Shipping and Hong Lam Marine on the maiden voyage of the world's first container vessel sailing on green methanol. This journey is an important step in our efforts to reach net zero greenhouse gas emissions by 2040, as it will allow us to gain the necessary operational experience to operate the new engines and the fuel provided by OCI Global ahead of the arrival of our larger methanol-enabled vessels in the coming years," Morten Bo Christensen, Head of Energy Transition at A.P. Moller – Maersk, added.
"We are deeply honoured to be a part of Singapore's first STS methanol bunkering. This goes with our absolute commitment to provide a safe and environmentally friendly option to decarbonise the marine industry in line with IMO's GHG emissions targets," Lim Teck Cheng, Executive Chairman, Hong Lam Marine, commented.
"We are proud to have collaborated with Maersk, Mitsui, Hong Lam Marine and the MPA to develop the methanol bunkering safety procedures and checklists. This is an important advance on our industry's sustainability journey, with a laser focus on safety. Green methanol holds significant promise to contribute to the decarbonisation of our industry… This vessel and her successors now on order are a vital step in creating more sustainable global supply chains," Panos Koutsourakis, Vice President, Global Sustainability, ABS, highlighted.
To remind, the 2,100 TEU feeder was launched on April 4 at South Korea's Hyundai Mipo Dockyard. The 172-meter long ship runs on MAN Energy Solutions' G50 or G95 dual-fuel engine capable of running on green methanol or conventional fuel. It was delivered to the company earlier this month.
Maersk currently has 25 dual-fuel vessels on order ranging from 2,000 TEU container capacity to 16,000 TEU. The firm expects that the full fleet of green fuel-powered vessels will be delivered and operational by 2027. Furthermore, the first 19 vessels will generate around 2.3 million tonnes of annual GHG emissions savings upon deployment and replacement of older vessels, according to Maersk.
To meet the 2040 target of net-zero greenhouse gas emissions in time, the shipowner aims to transport a minimum of 25% of ocean cargo using green fuels by 2030, compared to a 2020 baseline.