Ports of Gothenburg and Shenzhen partner on sustainability, new technologies
The Port of Gothenburg, the largest port in Scandinavia, has signed a sister port agreement with the Port of Shenzhen, the fourth-largest port in the world, to work together on sustainable transport, volume growth, and new technology.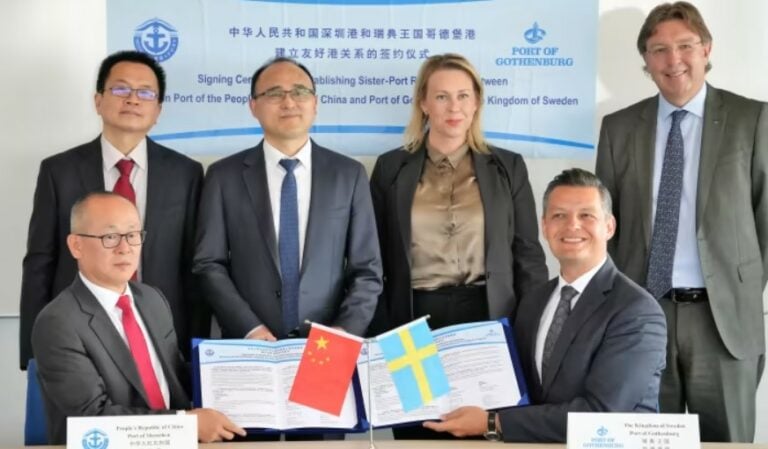 The purpose of the agreement is to strengthen cooperation between the ports in the areas of sustainability. With increased cooperation, the possibility of establishing green shipping corridors between the ports is also opened, which would result in significant reductions in carbon dioxide emissions for trade between the regions.
Establishing green shipping corridors requires collaboration on alternative fuels as well as strategies for implementing new green technologies.
"Our sustainability work is another reason why international major ports, such as Shenzhen, are interested in our operations. I see a strong willingness from the Chinese side to reduce carbon dioxide emissions throughout the value chain, and I am convinced that much of what we have been working on for a long time in the field of sustainability in Gothenburg can also be implemented in a Chinese context,"  Elvir Dzanic, CEO of Gothenburg Port Authority said.
"Moreover, we are also the largest port in Scandinavia, covering an important market for China. Our high-quality export industry has been strong in China for a long time, while Scandinavia imports many products from Asia. So there is great potential to develop trade exchange from both growth and sustainability perspectives," added Dzanic.
Sweden's trade with China is extensive. In terms of value, China is Sweden's eighth-largest trading partner in the world and the second-largest outside Europe after the United States.
In 2022, the trade between Sweden and China amounted to nearly $20 billion, an increase of 21% compared to 2021.
The majority of Sweden's trade with China passes through the Port of Gothenburg, which has weekly direct traffic to and from Asia and China.
The Port of Gothenburg is actively working on establishing new partnerships and collaborations. Recently, the port entered into a similar sister port agreement with the Port of Los Angeles to create conditions for growth, green shipping corridors, and promote sustainable development and digitalization in shipping.
The two ports will also collaborate on alternative fuels, as well as on strategies to incorporate new and emerging green technologies to minimize the impact of port operations on local communities and the overall environment.
Furthermore, the port has been very proactive in their decarbonization efforts. The authority published general methanol operating regulations for ship-to-ship bunkering and is making arrangements to set up a value chain with the ambition to become the primary bunkering hub for renewable methanol in Northern Europe. On 23 January, the world's first methanol ferry, Stena Germanica, was the first non-tanker to complete ship-to-ship (STS) methanol bunkering at the Port of Gothenburg.