Ports of Los Angeles, Gothenburg strengthen ties on digitalization and decarbonization
Officials from two of the world's busiest ports, the Port of Los Angeles and the Port of Gothenburg, Sweden, have signed a Memorandum of Understanding (MOU) to strengthen their cooperation in a range of areas including sustainability, digital and physical infrastructure, and potential trade opportunities.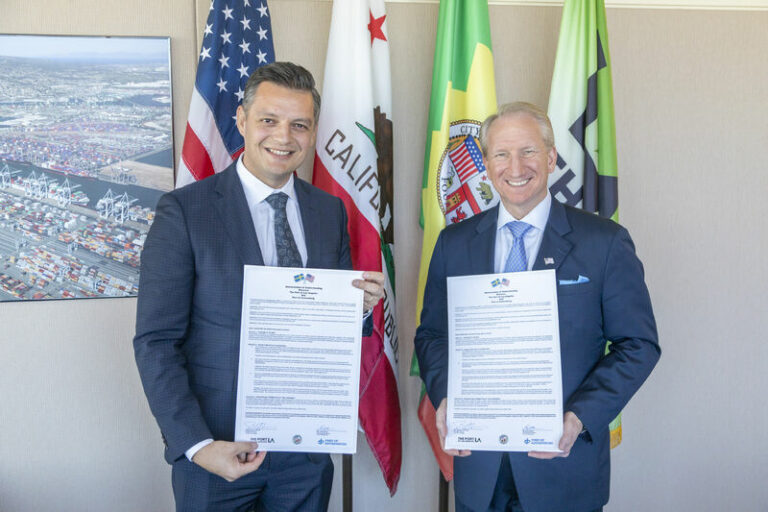 The MOU was signed at a ceremony held at the Port of Los Angeles last week.
The Port of Los Angeles' Executive Director, Gene Seroka, emphasized the importance of the partnership in his statement, saying that the ports must work together to modernize, innovate and share best practices due to their pivotal role in the global economy. The MOU builds on an already strong relationship and a shared pursuit of excellence in all aspects of port operations.
"Digitization and carbon dioxide reduction are some of the areas where our two ports are at the forefront in our respective regions, but at the same time we have strong ambitions to push the work forward from a level where we have come a long way but need to go even further. With a tighter collaboration, we will both be able to build on each other's innovations, ideas and best practices," says Göteborgs Hamn AB's CEO Elvir Dzanic.
The MOU will focus on sharing best practices, exchanging ideas, and consultation on issues critical to both ports, such as supply chain efficiency and digital technology. The sharing of lessons learned from the Port Optimizer™, a data portal developed by the Port of Los Angeles that has enhanced the port's supply chain performance since 2017. The system has also been used in the Port of Gothenburg since 2021 .
The two ports said that through data-driven insights in real-time for load planning, forecasts and tracking, the tool creates room for streamlining traffic, and thus reducing carbon dioxide emissions.
The two ports will also collaborate on alternative fuels, as well as on strategies to incorporate new and emerging green technologies to minimize the impact of port operations on local communities and the overall environment.
Both ports have been very proactive in their decarbonization efforts. The Port of Gothenburg has published general methanol operating regulations for ship-to-ship bunkering and is making arrangements to set up a value chain with the ambition to become the primary bunkering hub for renewable methanol in Northern Europe. On 23 January, the world's first methanol ferry, Stena Germanica, was the first non-tanker to complete ship-to-ship (STS) methanol bunkering at the Port of Gothenburg.
The port has been a strong advocate of facilitating alternative fuels in the transition to greener shipping, and it is working with ferry operators Stena Line and DFDS and energy companies Ørsted and Liquid Wind to establish an electromethanol (e-fuels) hub.
Most recently, the port announced efforts to establish hydrogen fuelling stations for heavy-duty trucks and convert its inspection vessel M/S Hamnen, which has been in service since 1979, to run on electrical power.
Last year, the Swedish port teamed up with the Belgian North Sea Port to establish a green corridor, aiming toward using alternative fuels for seagoing vessels by 2025.
Meanwhile, the Port of Los Angeles, Port of Long Beach, and C40 Cities have begun discussions with the Maritime and Port Authority of Singapore (MPA) to establish a green and digital shipping corridor between Singapore and the San Pedro Bay port complex.
The collaborative effort supports the Green Shipping Challenge launched during the World Leaders' Summit at the 27 United Nations Climate Change Conference (COP27) in Sharm el-Sheikh, Egypt in November 2022.