Principle Power wins FEED deal for Dolphyn floating wind-to-hydrogen project
Environmental Resources Management (ERM), the developer of the Dolphyn technology, has awarded a Front-End Engineering Design (FEED) contract to Principle Power for a 10 MW floating wind-to-hydrogen demonstration project in Scotland.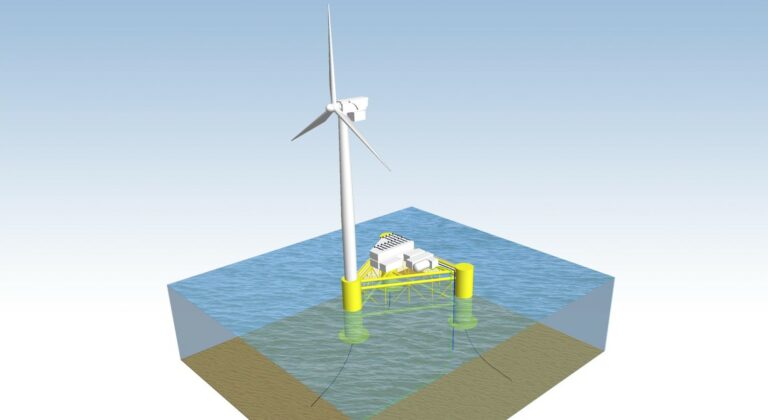 The ERM Dolphyn concept employs a modular design integrating electrolysis and a wind turbine on a moored floating semi-submersible platform which uses Principle Power's WindFloat technology to produce hydrogen from seawater, using wind power as the energy source.
"The ERM Dolphyn project, a first-of-a-kind, is an innovative integrated system combining all the technologies required to bring the latest floating wind and hydrogen production technologies together to enable offshore wind resources to contribute toward hydrogen production at scale", said David Caine, Partner at ERM.
Expected to begin operations in late 2025, the 10 MW demonstrator project is a key step in proving the Dolphyn concept prior to commercial-scale deployment, Principle Power said.
The company also said that commercial-scale projects of over 300 MW are under development and could be delivered before the end of the decade which could be followed by large-scale (GW) deployment in 2030.
The contract with Principle Power was signed after ERM Dolphyn was awarded GBP 8.62 million of funding from the UK Government, via the Low Carbon Hydrogen Supply 2 Competition.
Principle Power said that ERM Dolphyn is a core project for the UK's Hydrogen coast strategy which is expected to help generate over 10,000 jobs by 2030 and more than 100,000 by 2050.
Located off the coast of Aberdeen, the project, when fully developed at an expected 4 GW total capacity, could supply energy to heat more than 1.5 million homes with no carbon emissions.
ERM Dolphyn entered the commercial demonstration phase in May after the developer signed a contract with Offshore Design Engineering (ODE) for the topside FEED services.
In March, ERM signed an agreement with Source Energie to jointly develop projects in the Celtic Sea that combine floating wind and green hydrogen production.
The first of these is planned to be developed at the 300 MW Dylan site, located approximately 60 kilometres off the Pembrokeshire coast, where the companies' joint project is expected to be operational by the end of 2028.
In August, Source Energie announced another GW-scale floating wind-to-hydrogen project located to the south of Dylan, named Myrddin, that would potentially use ERM Dolphyn technology.
Register for Offshore Energy Exhibition & Conference: