Reach Charters New Subsea Vessel for Joint Projects with MMT
Reach Subsea has entered into a charter agreement with Topaz Energy and Marine for the newbuild subsea vessel Topaz Tiamat for two and a half years, with three yearly options.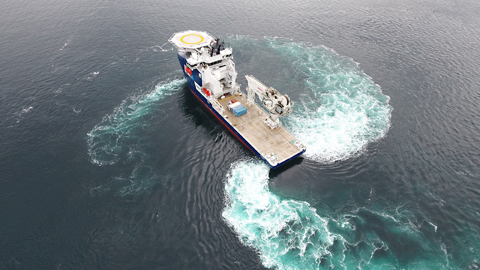 Topaz Tiamat will be deployed as a part of the co-operation agreement between Reach and MMT, who have been awarded several frame agreements over the last year for survey, IMR and light construction works in the oil and gas and renewable sectors.
The commercial terms of the charter agreement are confidential between the parties, but are structured in a way that enables Reach and MMT to offer a competitive subsea service to their clients for the next 5.5 year period, Reach Subsea said.
The Topaz Tiamat is a 1,000m² diesel-electric light subsea construction vessel with 82 pax accommodation in comfort class 3, equipped with an AHC 120-tonne subsea construction crane.
The Topaz Tiamat will be mobilized during Q1 2019 with ROVs from within the current Reach ROV fleet.
Jostein Alendal, CEO of Reach said: "We are very pleased to be able to offer a next generation subsea spread to our clients, an energy efficient vessel that fits nicely into our focus markets. The Topaz Tiamat is the first vessel chartered from Topaz, but based on their professionalism and proactive approach, we believe this will be the start of a successful and productive cooperation going forward."
Rene Kofod-Olsen, CEO of Topaz Energy and Marine said: "The Tiamat and Tangaroa, designed with, and built by, VARD Norway, set new benchmarks in efficiency, operability and cost-competitiveness. These vessels, along with Topaz's agile commercial mindset and reliability as a counterparty, have allowed us to forge a new long-term partnership with a strong subsea partner like Reach Subsea and we look forward to continue finding innovative ways of serving the offshore energy industry together."