Rolls-Royce to deliver mooring equipment for two rigs under construction
Rolls-Royce has signed agreements for the supply of mooring equipment to two drilling rigs under construction in Singapore and China.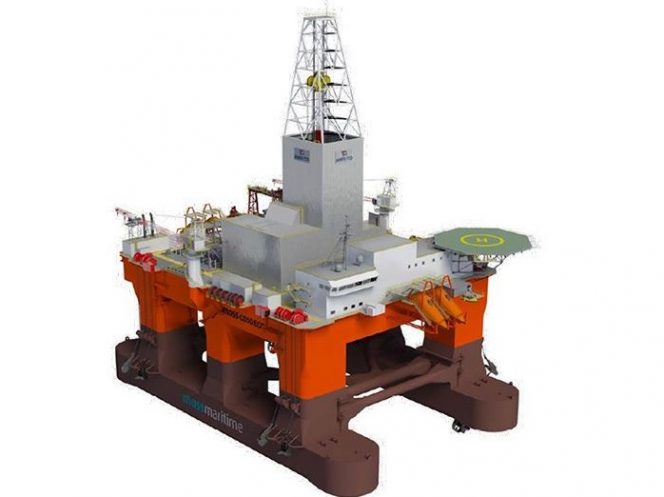 ---
Rolls-Royce said on Tuesday that the mooring equipment would be delivered to a Moss CS60Eco-type drilling rig being built by KeppelFELS in Singapore for Awilco Drilling and CMHI's CM-SD1000 rig being built in China Merchants Heavy Industry's facility in Jiangsu, China.
According to the company, the rigs will be fitted with a 12-point mooring system with the CMHI's rig being the first to be equipped with an R6 grade rig chain.
Such a chain has an ultimate tensile strength of 1200 MPa while the previous strongest mooring rig chain, the R5S, has an ultimate tensile strength of 1200 MPa.
Øystein Ryste, Rolls-Royce sales manager for E&P deck machinery, said: "To further improve operator safety, the mooring system features a Rolls-Royce E-Mooring control system incorporating a graphical user interface and a human-machine interface.
"This helps reduce the risk of incidents and accidents, stating the requirement of no single error, including operator's error, shall lead to failure or release of the mooring line."
The newbuilds
Media reports indicate that the CMHI rig is being built by the yard for a potential COSL charter which is looking to possibly replace its older Nanhai No. 5 semi-sub drilling rig.
The second rig Rolls-Royce will be equipping with mooring solutions is Awilco's Moss CS60Eco-type.
Awilco's rig is the market's first newbuild offshore rig order in four years. Awilco and Keppel signed a letter of intent for the order in February with options to build up to three additional rigs of similar design.
This became a formal contract in mid-March when Keppel secured a deal for the rig priced at approximately $425 million.
Rolls-Royce previously secured work on the Awilco newbuild with a contract to deliver five engines and four large UUC thrusters. Namely, Rolls-Royce will deliver five B33:45L8A diesel engines and four UUC high torque thrusters (3,800 kW).
Awilco also ordered dynamic positioning, automation, safety, thruster control, and navigation systems from Kongsberg Maritime, MHWirth will deliver the drilling equipment package with Xervo winning a deal to deliver an R-002 lifeboat system to the rig.
Offshore Energy Today Staff
Related news
List of related news articles