SAAM Towage's electric tugs pass sea acceptance trials
The first electric tugs in SAAM Towage's fleet, built by the Turkish shipyard Sanmar, passed the final sea acceptance trials and bollard pull tests in Istanbul's Tuzla Bay, Chile-based tug provider said.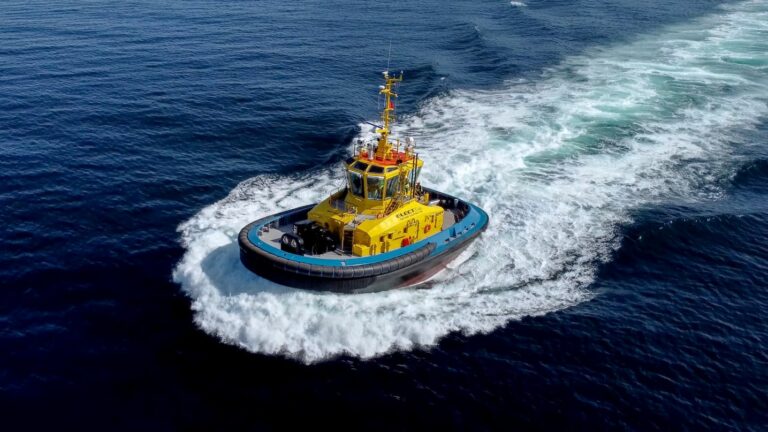 At full capacity, the new ElectRA 2300SX units, designed by Canada-based Robert Allan Ltd., are expected to reduce their annual greenhouse gas emissions by 2,400 tons. Under an agreement between SAAM Towage and Teck & Neptune Terminals the tugs will operate at the Port of Vancouver in Canada.
SAAM Towage's Managing Director Hernán Gómez said that the milestone allows the company to accelerate its journey towards more sustainable operations by significantly reducing its carbon footprint.
"This partnership is important for both our company and Teck, as it will lend financial and technical feasibility to our common strategic objectives of driving innovation and developing increasingly sustainable operations, a model we want to replicate," he added.
The tugs are fitted with two Li-ion battery banks, which will be charged using the British Columbia hydroelectric power grid, making them 100% electric, zero-emission vessels.
"It is exciting to see these revolutionary new-generation "tugs of the future" undergoing seaworthiness trials. Emission-free propulsion is no longer an aspiration for the future, but a fully viable solution for the tug industry," Sanmar Shipyards president Ali Gurun said.
With a length of 23.4 meters, a beam of 11.9 meters, and a maximum draft of 5.5 meters, these tugs boast a maximum bollard pull of 70 metric tons.
SAAM Towage operates more than 20 tugs along Canada's west coast at nine ports in British Columbia.
The tug company has a fleet of 210 tugs at more than 90 ports in the Americas, completing over 140,000 maneuvers for around 40,000 vessels every year.