Santos picks Atteris for Dorado subsea FEED work
Atteris has secured a contract with Santos for subsea front-end engineering design (FEED) work on the Dorado field development in Australia.
The work scope covers flow assurance definition and design of the subsea system connecting the wellhead platform to the FPSO including the flexible flowlines, dynamic risers, and a mid-water arch structure.
Last year, Atteris won the subsea, umbilical, risers and flowline pre-FEED for the Dorado project. The company was in charge of the configuration design of the dynamic riser system, the stability assessment of the flowlines and static umbilical, and field layout definition.
Atteris' general manager, Dermot O'Brien said: "Following Atteris' work on the pre-FEED last year, we are delighted that Santos has trusted Atteris to continue contributing to the Dorado project in the FEED phase".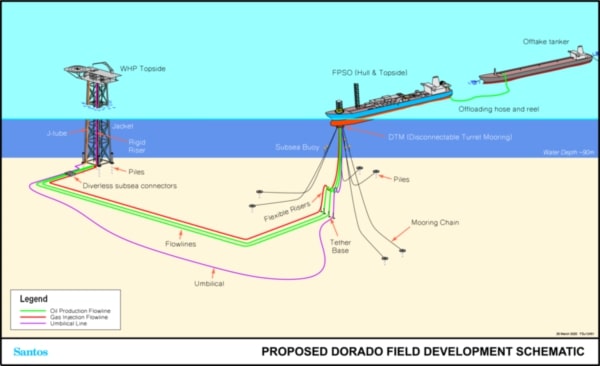 Dorado field is located within the Bedout Sub-basin, offshore Western Australia, in a water depth of approximately 95 metres. Operated by Santos, it is an integrated oil and gas project which is expected to have an initial oil production of 75,000 to 100,000 barrels per day, with subsequent development of significant gas resources.
Last week, Sembcorp Marine secured an exclusive contract from Altera Infrastructure to undertake the FEED work for the FPSO vessel for the project. Santos awarded the FEED contract for the Dorado FPSO to Altera Infrastructure in August 2021.
Only days after the FPSO contract award to Altera, Santos awarded the FEED contract for the design, construction, and installation of the wellhead platform (WHP) for the Dorado project to Sapura Energy.
The drilling of the wells is planned for 2024 and 2025.