Ship set to sail on world's first zero-emissions cruise voyage delivered
French shipbuilder Chantiers de l'Atlantique has delivered MSC Euribia, MSC Cruises' second cruise ship to run on liquefied natural gas (LNG).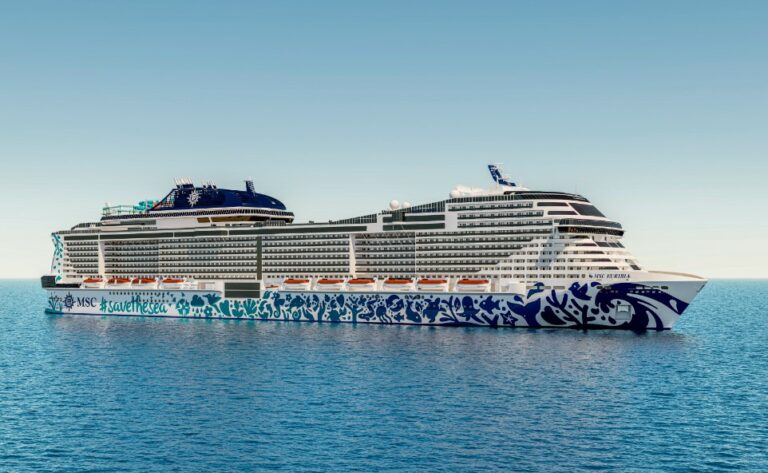 The delivery ceremony of MSC Cruises' latest flagship MSC Euribia took place at Chantiers de l'Atlantique's shipyard in Saint-Nazaire, France, on 31 May.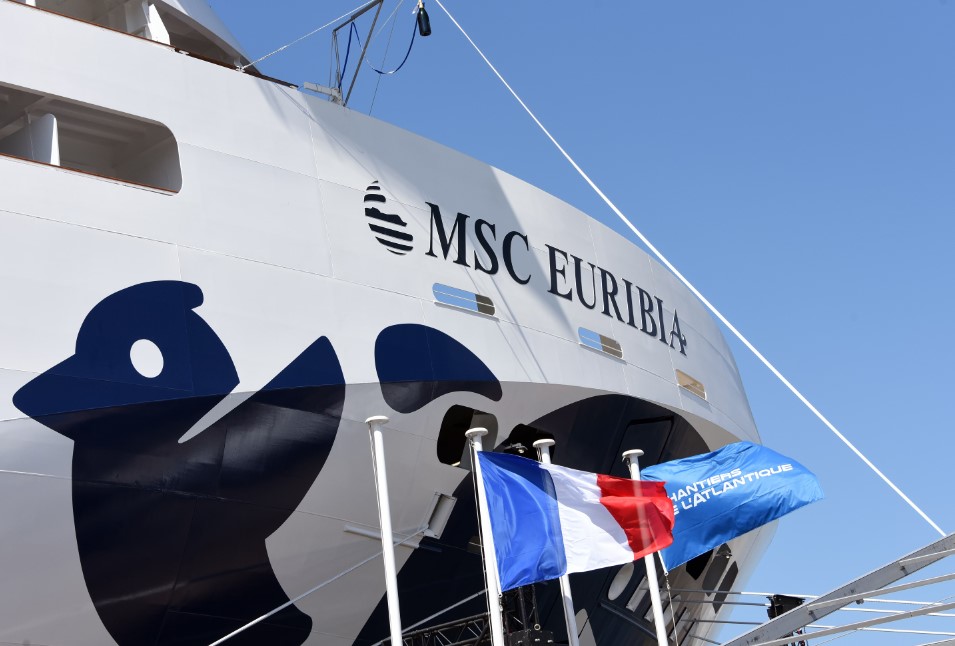 MSC Euribia is the final evolution of the popular Meraviglia class. Onboard, the ship boasts a lot of environmentally friendly features including advanced onboard wastewater treatment systems and waste management handling. It has also been designed with the future in mind, allowing it to easily incorporate future innovations in sustainability, such as carbon-neutral synthetic and other alternative fuels as soon as they are available at scale.
The official construction of the ship started back in 2021, when a steel-cutting ceremony was held in France.
The vessel is fitted with four Wärtsilä (12V and 16V) dual-fuel engines generally running on LNG, occasionally on 0.1% sulphur marine gasoil (MGO) so the ship will not require scrubbers.
Although the vessel can be powered using lNG, the ship design can accommodate drop-in renewable fuels today and retrofits that will enable MSC's to use renewable fuels not yet available today, such as green methanol.
When in service, the vessel emits up to 19% less greenhouse gas emissions per passenger per day than its sisterships which use conventional marine fuels. This amounts to 44% less greenhouse gas (GHG) emissions per passenger per day than ships built only 10 years ago, according to the company.
"With the delivery of MSC Euribia, we have taken yet another huge step towards our net zero GHG emissions goal. Alongside her many best-in-class environmental innovations, MSC Euribia features a truly groundbreaking energy efficient design that will deliver huge reduction in GHG emissions throughout her lifetime," Pierfrancesco Vago, Executive Chairman of the Cruise Division of MSC Group, said.
"The cleanest energy is the energy that we don't use and MSC Euribia has been constructed with this principle at its heart. This is why she marks with her coming into service such an important milestone toward our goal of achieving net zero CGH marine operations by 2050."
In an industry first, MSC Euribia will complete a net zero greenhouse gas emissions voyage. The new build, the 22nd ship to join the MSC Cruises' fleet, ship will sail from Saint-Nazaire in France to Copenhagen in Denmark and achieve net zero greenhouse gas (GHG) emissions to demonstrate net zero cruising is possible today.
The net-zero voyage will use bio-LNG using a mass-balance system, and, according to MSC Cruises, the entire supply chain will be fully compliant with the EU Renewable Energy Directive (RED II). Furthermore, each individual batch of the total bio-LNG produced has been certified by the International Sustainability & Carbon Certification (ISCC).
Meanwhile, MSC Cruises has also held a coin ceremony for the third LNG-powered cruise ship, MSC World America. The new ship due in 2025 will feature many of the environmental innovations present on MSC Euribia but with additional ones like pioneering technology to virtually eliminate methane slip from LNG when in operation.
"This 19th ship-the second of the World Class series-is the result of a long partnership between MSC Cruises and Chantiers de l'Atlantique. I am thrilled to announce that MSC World Europa, MSC Euribia, and MSC World America are the 3 most energy efficient, most environment-friendly ships of the cruise industry," Henri Doyer, Chantier de l'Atlantique MSC Program Director, concluded.