Shipbuilding in dire straits: global ordering hit hard in H1 of 2020
There has been a dramatic fall in the shipbuilding activity during the first half of 2020 as the COVID-19 pandemic curbed owners' willingness to order new ships amid market uncertainties and restricted access to capital.
Based on the data from VesselsValue, the number of ordered ships in the first half of 2020 has almost been halved when compared to the same period a year earlier.
Namely, the valuations agency's record shows that in the first half of 2020 there were around 332 new ship orders across all sectors, a 47 % fall when compared to a total of 625 orders in H1 2019 across all sectors.
This is further down from the corresponding 2018 figures that equaled to 881 orders.
Data from Clarksons Research Service, cited by Yonhap, paints a similar picture, with global new shipbuilding orders totaling 5.75 million compensated gross tons (CGTs), or a total of 269 ships being ordered during the January-June 2020 period.
The tally is believed to be the lowest since 1996.
According to Clarksons, Chinese shipbuilders secured the majority of orders totaling 3.51 million CGTs, or 145 ships, followed by South Korean shipbuilders with 1.18 million CGTs, or 37 ships, and Japanese players with 570,000 CGTs, or 36 ships.
The ongoing situation has also impacted the number of delivered vessels, with a lot of slippage being reported so far this year.
VesselsValue told Offshore Energy-Green Marine that at this point in 2019 there were 873 live vessels delivered, while there are 758 this year.
The UK-based maritime online valuation provider explained that being halfway through the year means over half of the 2020 vessels were expected to be live. However, there is a lot of ships still on order which are likely to slip further into 2021.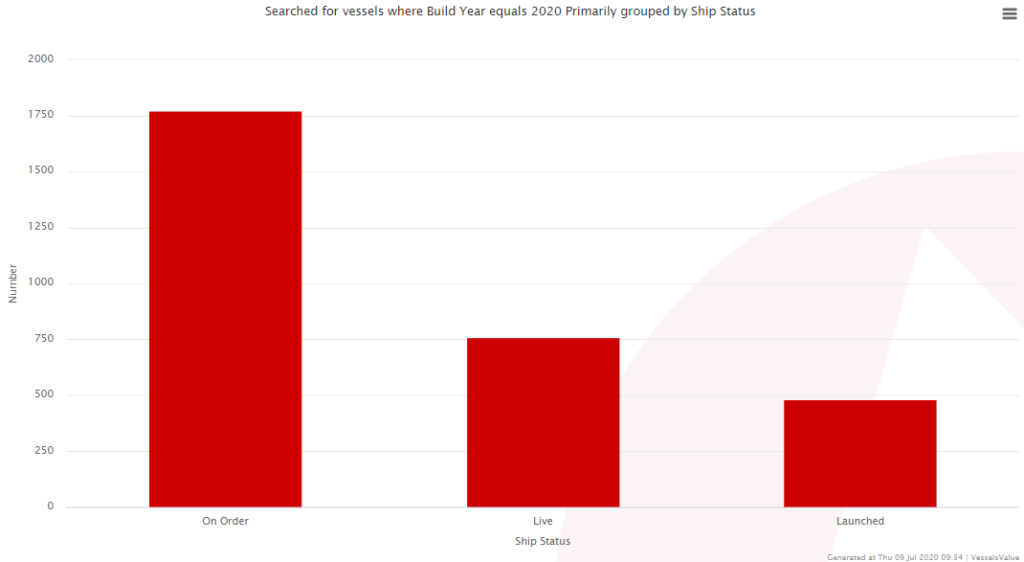 Consolidation
The shipbuilding sector has been battling the dry spell for quite some time, which has driven industry majors to join forces and consolidate ranks.
This has been particularly the case with Japanese shipbuilders which are faced with fierce competition from South Korea and China.
The consolidation wave among Japanese shipbuilders has been in progress since 2016, with Mitsubishi Heavy Industries (MHI) launching talks to form alliances with three compatriot shipbuilders – Imabari Shipbuilding, Oshima Shipbuilding and Namura Shipbuilding.
The downturn has seen China merge its top shipbuilders China State Shipbuilding Corporation (CSSC) and China Shipbuilding Industry Company (CSIC).
Meanwhile, South Korean top builders, Hyundai Heavy Industries and Daewoo Shipbuilding & Marine Engineering (DSME), are undergoing a regulatory review of their proposed merger.
Outlook
The pandemic has hit European shipbuilders, predominantly engaged in the constriction of cruise and RoRo vessels, extremely hard, as yards face construction delays from cruise liners and seek to secure financing for continuation of activity on existing ships.
Since the beginning of this year, we have seen German shipbuilder FSG file for insolvency and more recently Kleven Verft filing for bankruptcy after a loan termination.
Operations at STX Offshore & Shipbuilding Co. in Korea ground to a halt after unions launched a general strike on June 1 calling for an end of unpaid furloughs, as reported by the Korea Herald.
The cost-cutting measures impacting the workforce are being pursued as the shipbuilder failed to secure any new orders since the beginning of this year.
Aside from COVID-19 related impact on new ordering, there is also the issue of vessel overcapacity in the industry at a time when demand is constrained, particularly in the container shipping sector.
BIMCO's data shows that in the last three years of the past decade, demand outgrew the fleet as the TEU capacity of the fleet grew by 75.6% whereas demand measured in volumes was up 46.1%.
This imbalance left the container shipping market in worse condition at the end of the decade than at the start.
So, how do we save the shipbuilding industry from going bust if ordering of new ships is not the solution?
Restricted demand growth prospects coupled with overcapacity across shipping markets are clear indicators that the industry must up its efforts when it comes to demolition and retiring old, inefficient fleet.
On the other hand, with the growing pressure for the industry to cut its emissions and decarbonize there is also the need to build greener and more technologically-advanced ships.
The survival of shipbuilding companies is likely to depend on the shipbuilders' ability to rise to the occasion and speed up the construction of zero-emission ships.
Be it hydrogen, ammonia, or electrically-powered, one this is certain: the clock on decarbonizing is ticking and the time has come to make that giant step into the future.
Returning to 'business as usual' is not an option, and the new reality of demand downturn and economic troubles shows that for shipbuilding it will probably mean the survival of the toughest and most innovative.
Related news
List of related news articles