Siem Offshore upgrades PSV with hybrid battery package
Norwegian shipping company Siem Offshore confirmed on Saturday that its dual-fuel platform support vessel (PSV) Siem Symphony was upgraded with a hybrid battery package.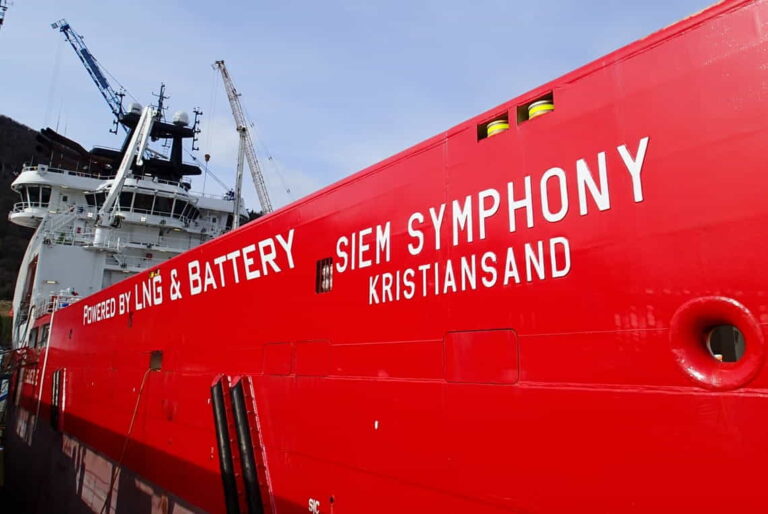 The latest battery upgrade is in line with Siem's strategic focus on reducing its environmental footprint. According to the vessel owner, the battery upgrade makes this PSV able to deliver efficient, safe, and environmentally friendly operations through its high specification, as the vessel was designed and built to satisfy the IMO 2020 regulations.
The battery installation was conducted during the second quarter at Westcon's yard on the Norwegian west coast. The PSV was assigned the Battery Power notation from Det Norske Veritas (DNV). After checking the initial results, Siem Offshore expressed its satisfaction at seeing an immediate effect in the reduction of the PSV's fuel consumption.
Due to Lundin Energy Norway's commitment to minimise the impact of its marine activities, Siem said it was confident the company would be able to achieve its goal by managing "the greenest term contract PSV fleet in the world".
As a reminder, Siem was awarded a charter contract by Lundin Energy for the Siem Symphony vessel back in March 2020 to provide support for a ten-well drilling campaign on the Norwegian Continental Shelf.
The firm contract was estimated to last up to 600 days plus options and the vessel was expected to begin its assignment during the second quarter of 2020.