Slow Mill takes purpose-built wave energy service vessel on maiden voyage
Dutch wave energy company Slow Mill Sustainable Power has taken its purpose-built wave energy research vessel on a maiden voyage offshore the Netherlands.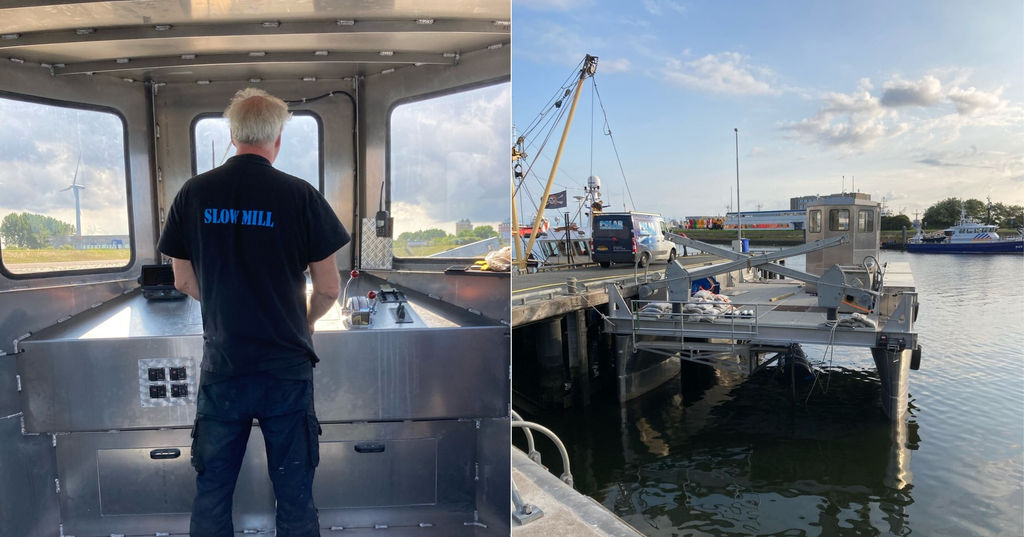 The vessel, dubbed Empiric, has been built especially for the installation, maintenance and research on the company's Slow Mill wave energy converter.
The Empiric is planned to be used for Slow Mill's wave energy project offshore Texel, one of the Dutch Wadden Islands.
"We embarked from Den Helder and were keen on the behavior of the vessel. We tracked rolling and pitching with a gyroscope instrument. The SWATH (catamaran-like) design proved well – the ship is remarkably stable", Slow Mill said on social media.
In 2018, Slow Mill installed 50-ton anchor four kilometres off the Texel island in North-Holland Province as part of the government-backed pilot to test its wave energy technology ahead of full-scale demonstration.
The anchor has been on the seabed for more than two years to test its robustness, and according to regional development agency Noord-Holland Noord (NHN), the tests have now been completed.
"The anchor has not moved. And we discovered something even better. Research by the Royal Netherlands Institute for Sea Research (NIOZ) shows that the biodiversity around the anchor has increased by 30 to 50%.
"The concrete anchor turns out to be a good basis for all kinds of seaweed and organisms, which in turn attract lobsters, crabs, fish and mussels. So with a whole line of Slow Mills off the coast we can create a Great Barrier Reef in the North Sea", Erwin Croughs, co-founder of Slow Mill was quoted as saying by NHN.
According to Meijboom, the next step is to install the full-scale prototype.
"Then hopefully we can lay a cable to land in 2022 to provide power to about 100 to 120 households on Texel", Croughs added for NHN.
Slow Mill wave energy systems is made up of an anchor mounted with the blade system and a floater.
The device works as waves push the floater up and the blades away from the anchor, utilizing not only the up and down movement, but also the back-and-forth movement of the waves, according to Slow Mill.
When the waves recede, they take the Slow Mill back to its starting position and a winch reels in the cable, preparing the device for the next wave.