Spectrum teams up with TGS on expanded survey off Brazil
Seismic survey companies Spectrum and TGS have announced a collaboration on the expanded Santos Basin multi-client 3D survey offshore Brazil.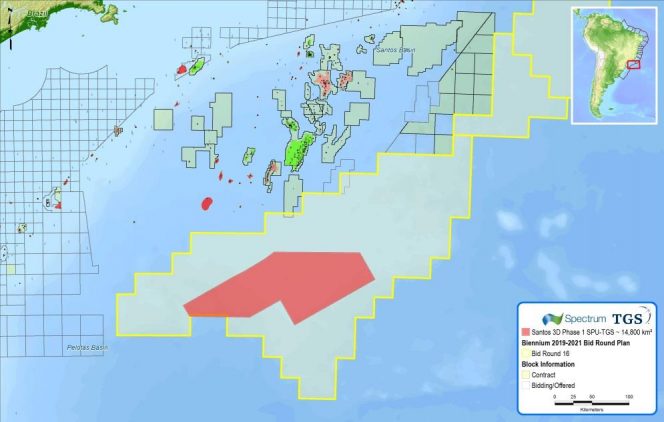 ---
Spectrum said on Tuesday that the company joined forces with TGS and expanded the Santos 3D program to 15,000 square kilometers over the prospective southern Santos Basin.
According to the company, TGS and Spectrum will be equal partners with data processing and imaging to be performed by TGS. The survey covers an area south of the high profile discoveries of the Santos Basin and the recent sought after blocks offered in Rounds 2, 3, 4, 5, and 15.
Rune Eng, CEO of Spectrum, said: "Spectrum is excited to cooperate with TGS in this survey over such a highly prospective area. The two companies will be working together to unlock the southern Santos Basin for exploration. The Santos Basin is one of the hottest exploration basins in the world with a high potential for further discoveries in deep water."
Kristian Johansen, CEO of TGS, added: "TGS is extremely pleased about this collaboration with Spectrum. This will be our second major investment in Brazil this year, expanding TGS' commitment to this significant exploration play."
Spectrum began the initial 10,000 square kilometer 3D multi-client seismic project in July this year. At the time, the project did not include blocks offered in Round 5.
According to information from July, fast-track data would be available for a round expected in the second half of 2019.
Before this survey project started, Spectrum has already acquired 200,000 kilometers of long offset high quality 2D data covering almost the complete coastline of Brazil.
Related news
List of related news articles