Subsea 7 deepwater vessels to sport MDL's bespoke aft recovery system
Maritime Developments (MDL) has delivered a bespoke aft recovery system for multiple Subsea 7 vessels operating in deep water.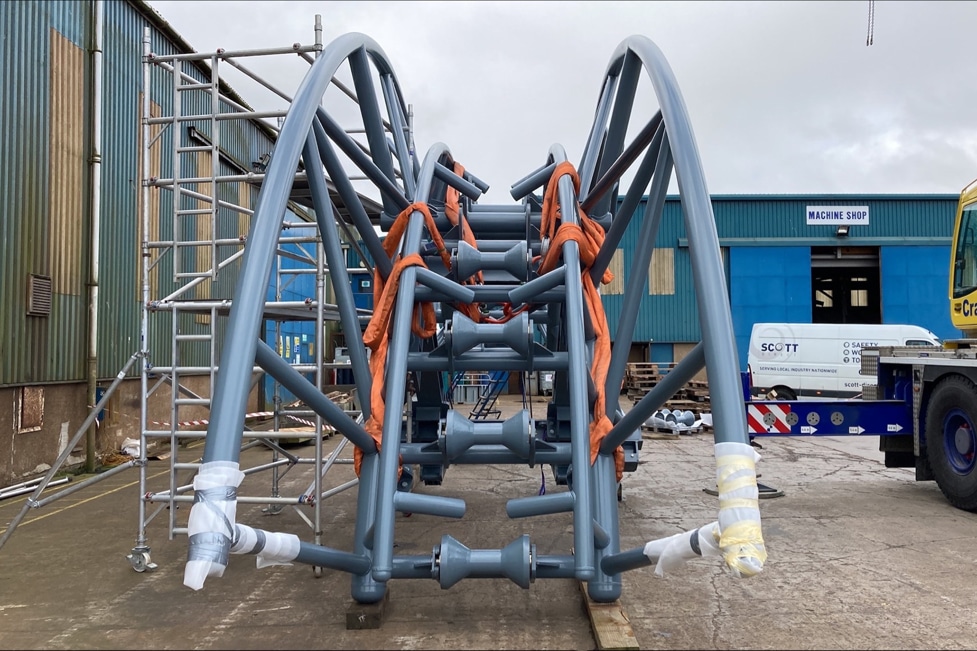 The assembly consists of a chute, a removal device for buoyancy, and a horizontal hang-off system.
According to MDL, the complete system will be mountable in different locations on the stern of the vessels, to facilitate the safe replacement of lazy wave flexibles fitted with buoyancy modules.
The UK-based company explained that the device is engineered to be fixed to the deck by way of sea-fastening brackets with a bolted connection for quick release.
The system can recover a wide array of product diameters without overbending the flexible or crushing the buoyancy modules.
MDL also disclosed that the inboard angle of the chute arc extends over 90 degrees to facilitate buoyancy modules maneuvering without using a crane and it is designed with a dedicated guide rail to support the modules through recovery.
The hand-off clamp is designed to be orientated in a horizontal position, allowing for the suspension of the catenary weight during the recovery of a damaged lazy wave.
MDL previously provided solutions to Subsea 7 through the design, manufacture, rental, and operation of a range of back-deck equipment, including bespoke deliveries of reel drive systems, tensioners, deck radius controllers, and turntables to global locations.
Over the last years, MDL AME technical team traveled to Subsea 7 vessels to conduct five-yearly maintenance works as well as winch load-cell upgrades in situ.
James Farquhar, Key Account Manager at MDL AME, said: "I am pleased to see the relationship with Subsea7 continue, from bespoke design and manufacture to rental of equipment for specific projects, to more recently asset maintenance and engineering services for their global fleet. This latest delivery draws a full circle, reflecting the complete integrated services we can provide as a single-source partner to our clients."
To remind, in December 2022, Subsea 7 won three contracts from Aker Solutions for the delivery of equipment and installation services for projects located offshore Norway.