SWITCH Maritime raises $10 million to grow hydrogen and electric ferry fleet
SWITCH Maritime, a US-based company developing zero-emission hydrogen and battery-powered ferries, has raised $10 million in a Series A round led by low-carbon investor Nexus Development Capital to expand its fleet.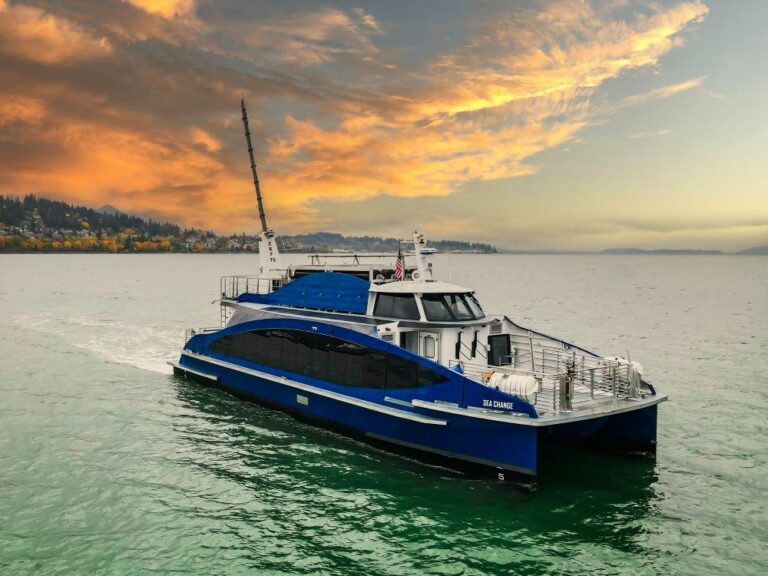 SWITCH Maritime was founded in 2018 with an aim to enable private and public municipal ferry operators to more easily replace their carbon-intensive, diesel-powered fleets while reducing operating and fueling costs over the lifetime of their vessels.
The company noted that the recent fundraising follows the completion of its flagship ferry named Sea Change, also known as the world's first commercial hydrogen fuel cell vessel, which was launched in San Francisco Bay in 2021.
The ferry will operate as part of the public Water Emergency Transportation Authority's (WETA) SF Bay Ferry fleet. The 75-passenger ferry uses hydrogen fuel cells to produce electricity to power electric motors for distances up to 300 nautical miles, and speeds up to 15 knots.
Sea Change received regulatory approval in 2022 from the United States Coast Guard (USCG) for hydrogen powertrain and storage systems.
Pace Ralli, CEO of SWITCH Maritime, said: "The maritime industry is one of the hardest to decarbonize sectors, but there are viable technologies and business models that can be deployed today to start transitioning fleets.
"After nearly a decade of searching for the right capital partner to support our early stage risk profile and high capital needs of project development, we're thankful to have found Nexus Development Capital. As a mission-based fund with a clear, long-term view on the future of the low-carbon economy, they have provided us with a critical starting block to prove our business model, and grow into an entirely new carbon-'net-zero' market for the maritime industry."
As states like California begin to implement stringent emissions regulations and reporting requirements for commercial harbor craft, including ferries), the company offers operators three key avenues of support:
vessel design, financing, and construction,
short- and long-term vessel lease options, alleviating large upfront capital expenditures, and
pre-packaged carbon-neutral fueling or charging infrastructure solutions.
Funding SWITCH Maritime is the sixth investment for Nexus Development Capital which is on a mission to use the growth infusion to continue providing small-check investments to sustainable infrastructure solutions, helping to bridge the gap between project concept and implementation.
"Nexus Development Capital is committed to helping companies bridge the gap between project conception and implementation by working together to take nascent technologies to market," said Nexus Development Capital CEO, Josh Kaufman. "SWITCH is filling a huge market gap in decarbonizing the maritime industry, and we're excited to work together to bring carbon-free sea transport to the US."