First US hydrogen-powered ferry gearing up for pilot service
MV Sea Change, the first hydrogen fuel cell-powered ferry in the United States, has been fueled on the San Francisco waterfront as it continues its sea trials ahead of being put into regular operation.
The San Francisco Bay Area Water Emergency Transportation Authority (WETA) announced this fueling milestone on 22 June, stating it marks a step toward demonstrating hydrogen-based technology in the passenger ferry industry.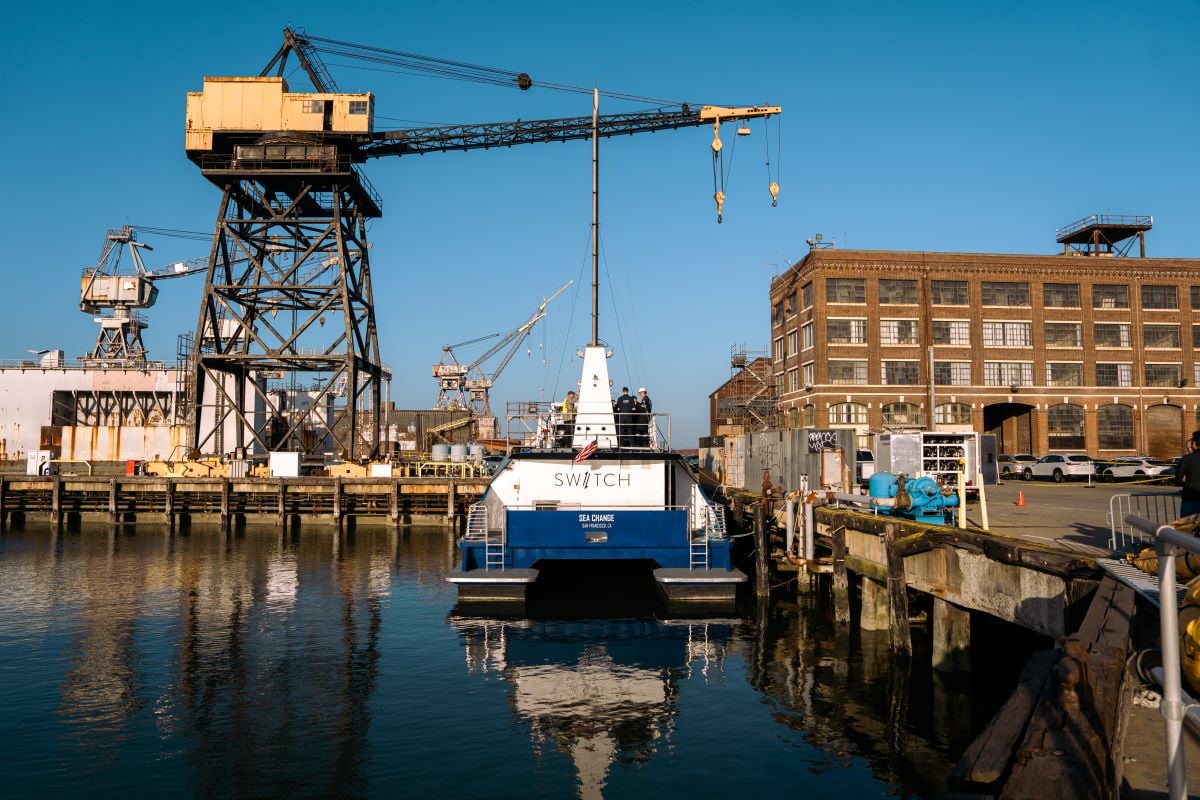 The first fueling is part of a process that includes testing from the U.S. Coast Guard and is among the final steps in getting the ferry passenger-ready. As the next step, the ferry will enter a six-month pilot service, which is slated to begin in August 2023.
Once in operation, the ferry will carry passengers between Pier 41 on the city's northern waterfront and the Downtown San Francisco Ferry Terminal.
The 75-passenger ferry was built by All American Marine shipyard for the compatriot shipowner SWITCH Maritime. The vessel, designed by Incat Crowther, is fitted with hydrogen-powered fuel cells producing electricity to power electric motors enabling the vessel to sail distances of up to 300 nautical miles and reach speeds up to 20 knots.
The fuel cell power package is provided by Zero Emissions Industries (formerly Golden Gate Zero Emission Marine), comprised of 360 kW of Cummins fuel cells and Hexagon hydrogen storage tanks with a capacity of 246 kg.
This system is integrated with 100 kWh of the lithium-ion battery provided by XALT and a 2×300 kW electric propulsion system provided by BAE Systems.
The Sea Change Project began development in 2018 and the ferry was delivered in August 2021. Earlier this year, it was towed to the California Bay Area.
The project is backed by the seven-time NBA Champion Golden State Warriors, the Golden Gate Bridge, the Highway and Transportation District and other funding partners that will be announced along with the ferry's launch date, WETA informed.
Jim Wunderman, Chair of the WETA Board of Directors, said: "The Sea Change is not only a first-of-its-kind passenger ferry, but this pilot project will provide new and necessary insights into expanding hydrogen fuel cell technology in the maritime space."
Hydrogen solutions and development will be showcased at Offshore Energy Exhibition & Conference (OEEC) 2023 in the dedicated Hydrogen Area.
Taking place on 28 and 29 November at the RAI Convention Centre in Amsterdam, the OEEC 2023 gathers around 400 exhibitors, showcasing their experience and expertise in the offshore wind, oil and gas, marine energy, hydrogen sector and more.
Book your ticket with the Early Bird discount now and join the Hydrogen Area!