TechnipFMC bags EPCI job on Petrobras Mero field
TechnipFMC has been awarded by Petrobras a large engineering, procurement, construction and installation (EPCI) contract for the Mero 1 pre-salt field, located in the Santos Basin, at 2,100 meters of water depth offshore Brazil.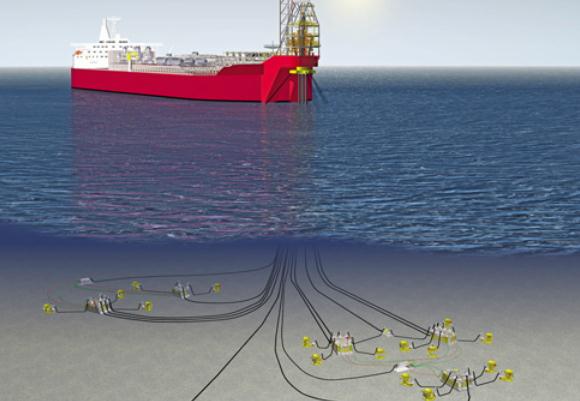 The contract was awarded on behalf of the Libra Consortium, comprised of Petrobras, Shell, Total, CNOOC Limited, CNPC and Pré-Sal Petróleo (PPSA).
For TechnipFMC, a large contract is between $500 million and $1 billion.
TechnipFMC said on Wednesday that the contract covers engineering, procurement, construction of all rigid lines, as well as the installation and pre-commissioning of all the infield riser and flowline system for interconnecting 13 wells (6 production and 7 water alternate gas) to the FPSO.
It also includes the installation of rigid pipelines (including corrosion resistant alloy and steel lazy wave risers), flexible risers and flowlines, steel tube umbilicals and other required subsea equipment.
Arnaud Piéton, President Subsea at TechnipFMC, commented: "We are extremely honored to have been selected to execute this EPCI project for the Mero 1 pre-salt field in Brazil. We are looking forward to collaborating with the Libra Consortium in the development of this important project."
The company runs a global Subsea Technology Center, which focuses on subsea production systems and flexible pipes. TechnipFMC also operates a fleet of 8 specialized vessels based in Brazil, which includes the recently named Skandi Olinda, a Brazilian-built pipe lay support vessel.
The Mero FPSO will be installed in on Mero field, located in the northwestern area of the Libra block, about 180 km off the coast of Rio de Janeiro, in the pre-salt of the Santos basin.
The unit will be operated by Modec, the company responsible for the construction, and chartered for 22 years. Part of the construction will be carried out in Brazil.
Namely, Modec recently awarded a contract to Brazil's offshore construction specialist, the Estaleiros do Brasil Ltda. (EBR), for the fabrication and assembly of a number of topsides process modules for the Mero FPSO system, the FPSO Guanabara MV31.