TGS sees seismic market improving. Starts UK survey
Norway's TGS has kicked off acquisition the new Erlend Wild West multi-client 3D seismic project. Separately, the company has announced strong quarterly results.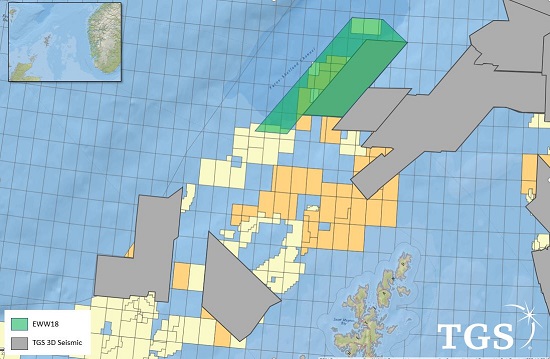 The UK survey will cover a minimum of 1,000 km2 in the UK West of Shetland region and ties into TGS' existing EW12 3D data.
Kristian Johansen, CEO for TGS. "Erlend Wild West 3D will expand TGS' data coverage, including open acreage and existing discoveries, in the West of Shetlands region, where high potential prospects have been identified.
He said the project would provide modern, high quality seismic data to an area that is highly relevant for exploration in the newly awarded acreage for the UK 30th Offshore Licensing Round."
Market improving
In a separate announcement, TGS reported its 2Q 2018 results. TGS reported net revenues of $158 million in Q2 2018, up 47% from Q2 2017. Operating profit for the quarter was $54 million (34% of net revenues), the highest quarterly operating profit in four years, TGS said.
The CEO said: "TGS delivered an excellent financial result in Q2 2018 driven by strong late sales which were up 73% year-on-year. This helped TGS to achieve its highest quarterly operating profit in four years.  The global multi-client seismic market has been on an improving trend for more than a year now.
"TGS's strong quarter was partly a result of high regional license round activity combined with a pick-up in activity related to acreage turnover and farm-ins particularly among independents and smaller E&P companies. These triggering events fluctuate from quarter to quarter, therefore short-term volatility continues to be high. However, TGS believes that, with oil price continuing well above the level budgeted by most E&P companies, additional funds may be available for exploration spending by our customers at the end of the year," TGS' CEO Kristian Johansen stated."