UECC orders third battery hybrid LNG car carrier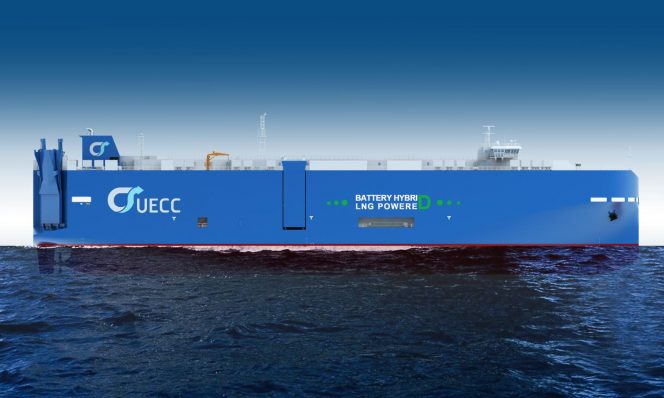 ---
United European Car Carriers (UECC), jointly owned by Nippon Yusen Kabushiki Kaisha (NYK) and Wallenius Lines, triggered its option with China Ship Building Trading and Jiangnan Shipyard Group for a third battery hybrid LNG vessel.
The hybrid LNG pure car truck carrier (PCTC) will serve UECC's Atlantic short sea trade, the company said in its brief statement through the social media channels.
Commenting on the reasons for triggering the option, Glenn Edvardsen, CEO of UECC said, "Our experience with LNG dual-fuel vessels has been good and we want to keep moving forward to expand our sustainable fleet."
The new orders will push the UECC dual-fuel LNG fleet to five vessels.
The new battery-hybrid solution will take UECC beyond the IMO target of 40 percent reduction in carbon intensity by 2030. The three vessels will also meet the IMO Tier 3 NOx emissions limitations entering into force in the Baltic and North Sea from 2021 keel lays.
"When our third battery hybrid LNG PCTC is delivered in 2022, its ushers in a new era for UECC and short sea shipping in Europe," says Edvardsen.
Similar to its sister vessels, the option vessel will have a length overall of 169 meters, a width of 28 meters and a car carrying capacity of 3 600 units on 10 cargo decks, of which 2 decks are hoistable.
The vessel will have a quarter ramp of 160 metric tons safe working load and a side ramp of 20 metric tons safe working load and can accommodate cargo units up to 5.2 meters high.
Related news
List of related news articles