Uzmar Shipyard to build two TRAnsverse tugs for Svitzer
Svitzer, a towage provider and part of A.P. Moller-Maersk, has awarded a contract to Uzmar Shipyard to build two new TRAnsverse tugs for its Australian business.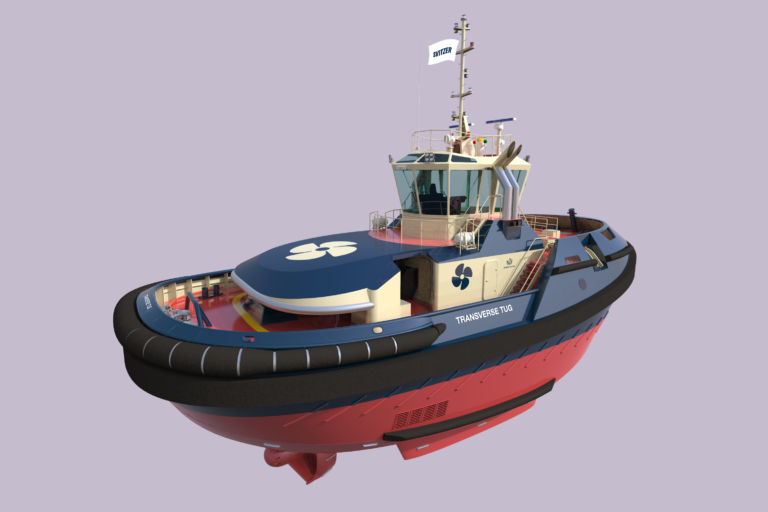 According to Svitzer, the TRAnsverse tugs, created in collaboration with Robert Allan Ltd., deliver an estimated 10-15% reduction in fuel use compared to other tugs on the market, noting that the new ones will be built to a specification that also enables biofuel operations bringing tank-to-wake carbon emissions to zero.
Svitzer noted that the two new tugs will be deployed to Svitzer Australia's Port of Newcastle (NSW) operations in 2025, becoming the first TRAnsverse tugs to be deployed to Australia, and only the second and third to be deployed globally.
Commenting on the tugs, it said: "The TRAnsverse tug's omnidirectional hull form, in combination with its unique towing staple and propulsion system, provides towage capabilities that are unmatched by other tug designs."
"Its design enables it to maximise the forces necessary for braking and steerage during towage, as it manoeuvres steadily in the water, and consequently without compromising safety, even at full speed range. It maintains position with lower propeller input power than tug designs where the thrusters are mounted side by side, and overall brings a significant increase in stability and freedom of movement."
"As a result of these features, the TRAnsverse tug meets the full range of complex harbour and terminal towage environments, providing benefits such as the ability to reduce the overall time of tug jobs, greater availability in poor weather conditions, reduced emissions and enhanced safety."
Svitzer CEO Kasper Friis Nilaus commented: "We have been listening closely to our customers and their need for innovative towage solutions. The TRAnsverse tug offers significant improvements in operational efficiency, flexibility and sustainability by improving shipping turnaround times and reducing carbon emissions, helping customers to manage the demands of the modern towage market and the complex, busy port environments of today and the future."
"We are committed to building new tugs that meet the highest of efficiency standards and that support our customers and port operations in reducing their scope 3 emissions and total carbon footprint, whilst not compromising, and indeed improving, on safety and operational performance."