Vertom splashes 2nd methanol/hydrogen-ready electric bulker
Dutch short sea shipping company Vertom Group has launched the second in a series of six diesel-electric dry bulk vessels being built by compatriot Thecla Bodewes Shipyards.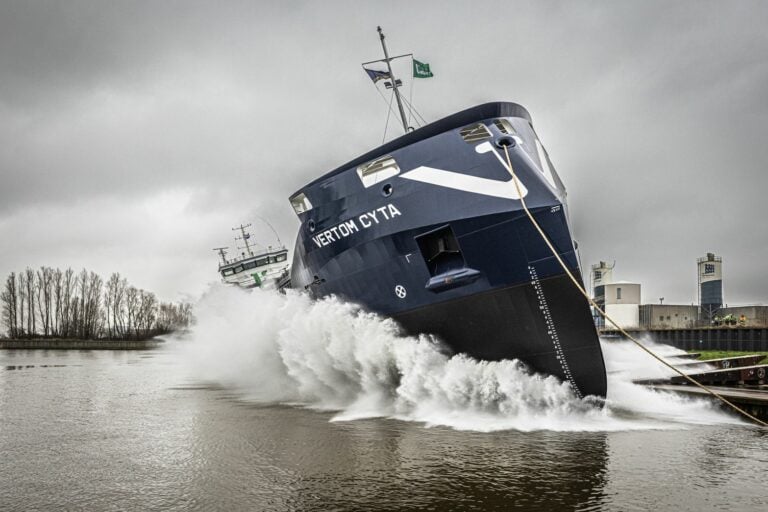 As informed, the vessel Vertom Cyta was launched and christened at Tecla Bodewes Shipyards in the Netherlands on 23 February. The company held a keel-laying ceremony for the bulker in September 2022.
Vertom Cyta, like its sites ship Vertom Patty which was delivered last December, is a 7,000 dwt diesel-electric multi-purpose dry cargo vessel of the LABRAX design.
The LABRAX vessels are specially developed to Vertom's requirements. The units have a length of 118.60 meters and a breadth of 14.30 meters.
During detail engineering, CFD optimization of the hull design was performed for a fuel-efficient speed-power performance powered by a future proof modular electric propulsion system.
This system distributes the vessel's energy load more efficiently, by using several smaller engines that adjust to the current sailing profile for the most efficient combustion.
This hybrid concept is designed to be ready for future developments, because of the possibility to make the vessel's propulsion methanol-electric or hydrogen-electric, according to the company.
Two weeks ago, Vertom placed an order for two additional diesel-electric dry cargo vessels of LABRAX class from Thecla Bodewes Shipyards.