Video: C-Power's TigerRAY wave power system gets wet
Built for the University of Washington's Applied Physics Lab's research project, the next-generation SeaRAY wave power system – developed by C-Power – has gotten wet during a recent test deployment operation.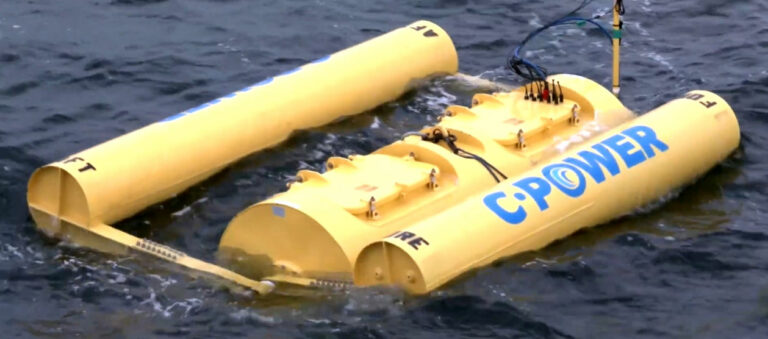 A collaborative team from the University of Washington and Oregon State University have integrated several technologies to test a prototype system that harnesses the power of ocean waves to send electricity to an ocean observing vehicle.
The TigerRAY was built as part of a US Navy-sponsored R&D project to investigate at-sea charging of unmanned underwater vehicles.
"Applied Physics Lab's video of the TigerRAY test deployment shows a use case in action for how our systems will power the future of the ocean economy and national defense," C-Power said on social media.
Initially conceived during a U.S. Department of Defense project, the SeaRAY autonomous offshore power system (AOPS) provides in-situ power, energy storage, and real-time data and communications support that could advance the marine economy toward a future of autonomous, connected and resident technologies.
It is designed to support unmanned offshore activities and equipment, including subsea vehicles, sensor packages, and operating equipment.
When deployed, the SeaRAY is expected to be able to significantly lower the costs and carbon emissions, reducing also operational complexity, while increasing safety, and enabling capabilities not available currently.
To remind, C-Power will soon start a six-month demonstration of a SeaRAY AOPS. Performed in partnership with the US Department of Energy and the US Navy, the offshore campaign will be focused on testing and validating the device's technical and economic capabilities.
The demonstration will take place at the US Navy's Wave Energy Test Site (WETS) in Hawaii, and will also feature Verlume's Halo energy storage system.
The Halo energy storage system will provide the seafloor base unit and the payload interfaces for power, data and communications to multiple subsea payloads, ensuring continuous energy availability for remote subsea operations, according to Verlume.
---
Follow Offshore Energy – Marine Energy
---