Wallenius Wilhelmsen pens deal for up to 12 methanol and ammonia-ready newbuilds
Oslo-listed RoRo vessel operator Wallenius Wilhelmsen ASA has signed a letter of intent for delivery of four 9,350 CEU methanol-capable and ammonia-ready vessels and individual options for an additional eight car carriers.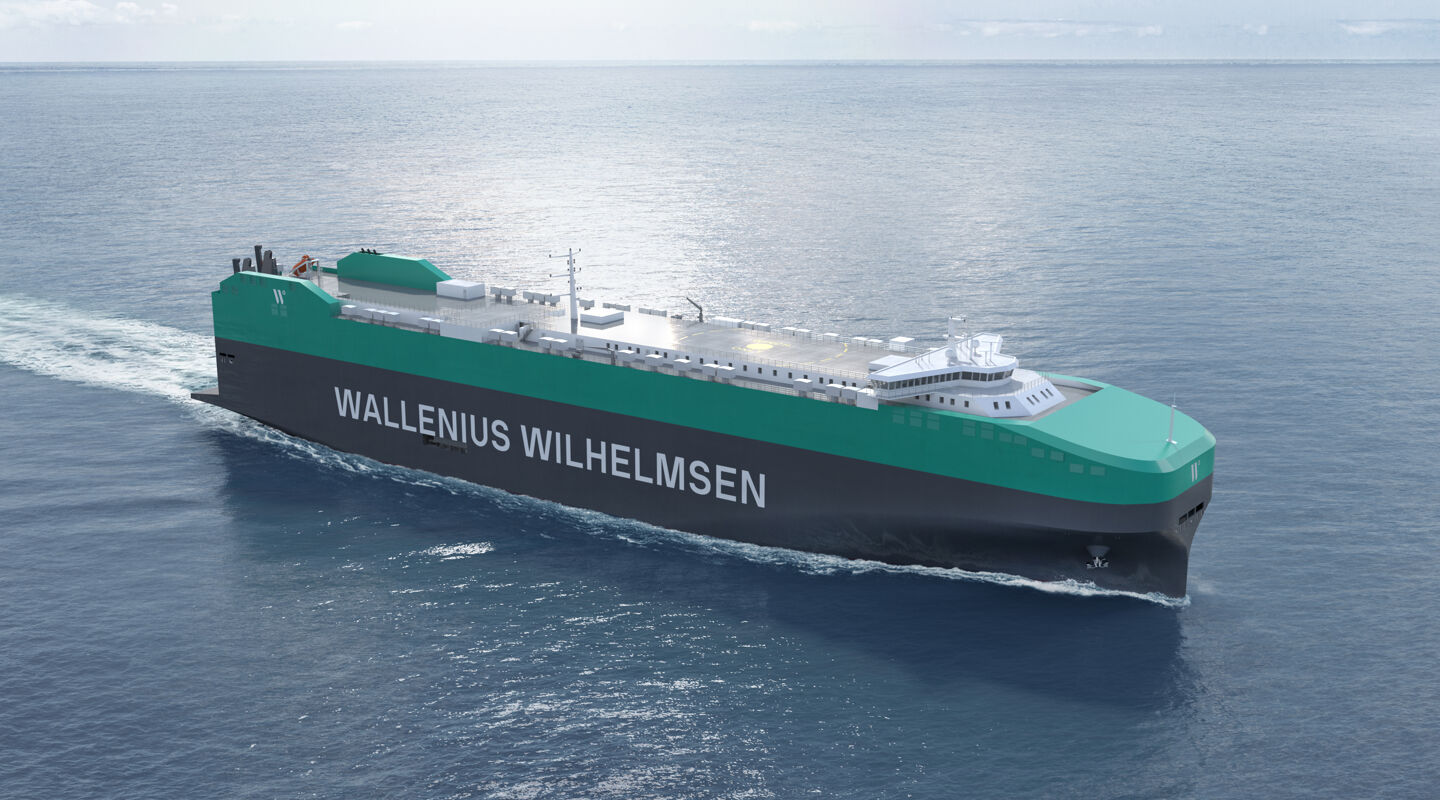 The four vessels are set for delivery from mid-2026 and onwards by China's Jinling Shipyard (Jiangsu).
"We are securing our position as our customers' first choice in shipping and delivering on our strategy to provide a net-zero emission-free end-to-end service by 2027," says Xavier Leroi, EVP & COO Shipping Services Wallenius Wilhelmsen.
Wallenius Wilhelmsen said that the vessel class will be named ' The Shaper Class' symbolizing the company's transformational changes and adding that all of its new investments would contribute to the company's net-zero agenda.
"We believe that methanol is the fastest way to net-zero emission, and the ordered vessels can upon delivery use alternative fuel sources such as methanol. The vessels will also be ammonia-ready and can be converted as soon as green ammonia becomes available in a safe and secure way," added Leroi.
"There is an urgent need for our industry to transform over the next couple of years. As a company, we are determined to shape this industry and lead the way to capitalize effectively on changing circumstances, as we grow with customers and partners sharing our journey," says Lasse Kristoffersen, CEO and President Wallenius Wilhelmsen.
Wallenius Wilhelmsen has set a strategy to maintain a fleet of 125-135 vessels, and new vessels are an integral part of the fleet strategy, and the key to accelerating the company's journey towards net-zero emissions.
"To secure our number one position, we will continue to deliver great services with a competitive fleet, offering sustainable supply chain services both on land and at sea. We are already partnering with our customers on reducing emissions through biofuel. With the new vessels, we can accelerate our operations towards net-zero. This requires new and more expensive fuels and we are committed to securing this together with our customers as soon as it can be made available," says Leroi.
As part of its decarbonization efforts, the company has also embarked upon an ambitious project of building a 7,000 CEU RoRo vessel that will use wind as the main form of propulsion.
The "Orcelle Wind" is a concept vessel, and dedicated car-carrier, that uses wind as its main propulsion form, thereby significantly reducing emissions. The plan is to set sail within 2027.
The "Orcelle Wind" project is a project in which Wallenius Wilhelmsen, together with other partners, will invest in learning and development. The project has also received 9 million Euros from the EU funding, to support continued research.
In a separate announcement issued today, the company said that Wallenius Wilhelmsen ASA has mandated Danske Bank, DNB Markets, Nordea and Sparebank 1 Markets as joint lead managers to arrange a series of fixed-income investor meetings commencing tomorrow.
A sustainability-linked 5-year NOK-denominated senior unsecured floating rate transaction may follow, subject to inter alia market conditions. Net proceeds from the contemplated bond issue will be used for partial refinancing of existing debt and general corporate purposes, the company said.
The Norwegian shipowner reported a robust Q2 result, with USD 477m in EBITDA and USD 396m in operating cash flow.