Wärtsilä to power Baleària's LNG-fuelled fast ferry
Finnish technology group Wärtsilä has been contracted to supply dual-fuel engines and high-performance axial flow waterjets for Baleària's new high-speed RoPax ferry powered by liquefied natural gas (LNG).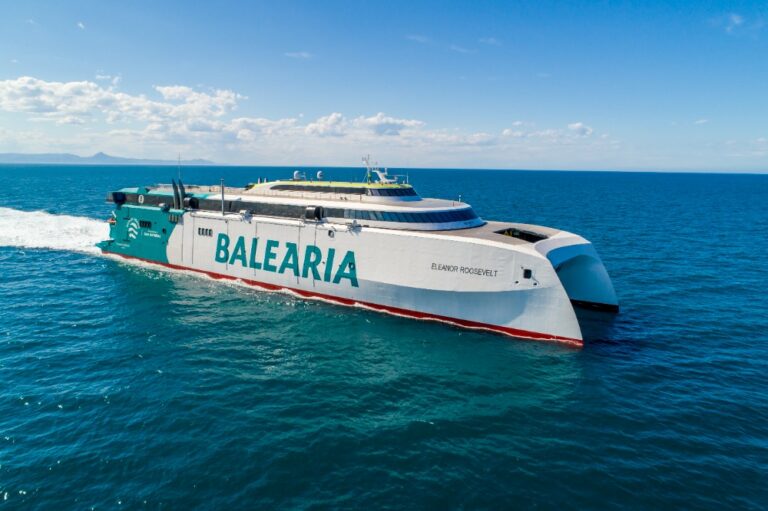 As explained, the ship, Margarita Salas, is being built at the Astilleros Armon Gijon yard in Spain on behalf of the Spanish shipping company Baleària.
It will have the same dimensions as its sister vessel, Eleanor Roosevelt, which at 123 metres is currently the longest high-speed ferry in the world in operation.
The order was included in Wärtsilä's order book in April 2022.
While the dimensions of the two ships will be the same, the new vessel's Wärtsilä engines will have ten percent greater power and increased efficiency, according to the company.
Also, the latest-generation WXJ Wärtsilä waterjets will deliver better performance. Overall, Margarita Salas will feature optimised speed and capacity and, like Eleanor Roosevelt, will operate on LNG fuel.
Specifically, the Wärtsilä scope includes four Wärtsilä 31DF dual-fuel engines operating primarily on LNG fuel, four Wärtsilä WXJ steerable-reversible inboard hydraulic waterjets with Protouch propulsion control system, and two LNGPac fuel storage and supply systems.
LNG has been seen as the most mature marine fuel available within the industry's decarbonisation focus, according to the Finnish company.
The axial flow of the Wärtsilä waterjets reduces the installation footprint by an average of 25 percent compared to conventional systems. Furthermore, the propulsion system will enable the vessel to reach a service speed of 35 knots.
"This new ship will combine the most competitive features of the Eleanor Roosevelt with a series of innovations in its design and engineering to enhance the customer experience," said Pablo Garcia, New Builds Project Manager at Baleària.