WATCH: 137,500 cbm ISH FSU docks at Philippines LNG import terminal in 'a historic moment'
ISH, a 137,500 cbm floating storage unit (FSU), has arrived at Atlantic Gulf & Pacific's (AG&P) Philippines LNG (PHLNG) import terminal in Batangas Bay, bringing affordable and clean LNG to the country for the first time.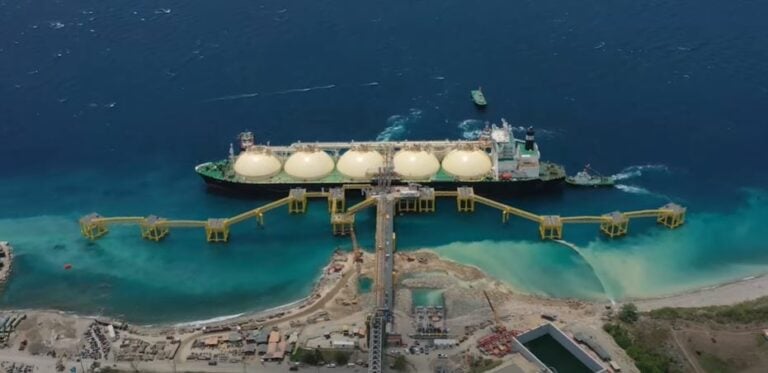 Chartered by AG&P for a 15-year period from ADNOC Logistics and Services (ADNOC L&S), the FSU docked at the PHLNG terminal in what was described as a historic moment in the Philippines.
The ISH FSU arrived after receiving commissioning cargo for the PHLNG terminal that was delivered in mid-April on board the 162,000 cbm LNG carrier Golar Glacier. This was the country's first-ever LNG cargo and it was sent at the beginning of the month by Vitol Asia Pte Ltd from Das Island, UAE, supplied under a long-term contract by its partner ADNOC.
The LNG will be initially used to power San Miguel's 1,200MW gas-fired power plant to serve Luzon, the most populous region in the country.
In preparation for launching the first Philippines LNG import terminal, AG&P completed the conversion of the ISH, a 137,500 cbm LNG carrier, into an FSU in October last year. Supply, operations, and maintenance will be handled by ADNOC L&S, as part of its 15-year chartered agreement with AG&P.
The FSU is part of the combined offshore-onshore import terminal that will have an initial capacity of 5 million tonnes per annum (mtpa) of LNG.
The FSU will be capable of loading LNG at a peak rate of 10,000 cbm/hr and a discharge-to-shore peak rate of 8,000 cbm/hr made possible with the modifications done by Gas Entec in the cargo handling and safety system that allows for simultaneous loading and discharge of LNG.