Welsh steel sails across Bristol Channel fixed for orbital waves (Video)
Swansea-based wave energy developer Marine Power Systems (MPS) has recently relocated its WaveSub prototype to the site where it will be put through its paces shortly. WaveSub's 'smooth sail' to FaBTest – located off the coast of Cornwall – has been captured in the newly released video featured above.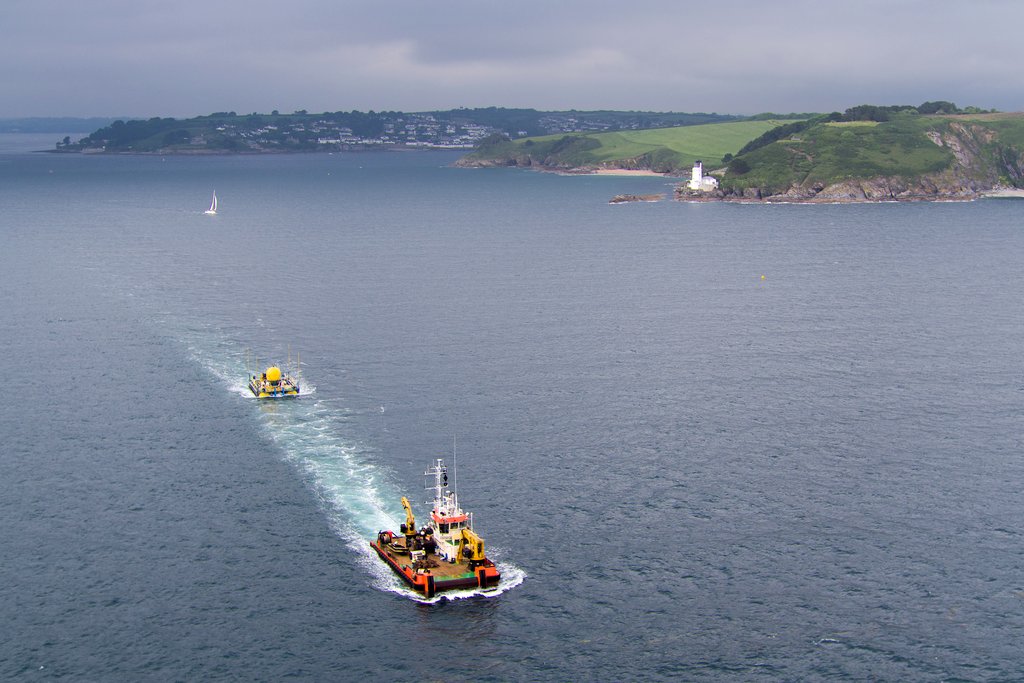 The quarter-scale WaveSub prototype was officially launched in October 2017, in Wales – which marked a move to a new, sea-based phase of development for the Swansea-based company.
In order to reach its Cornish test location, the device underwent a 169 nautical mile tow from Milford Haven to Falmouth.
The tow – provided by Scottish outfit Leask Marine's C-Fenna workboat – established an optimum tow speed of 6 knots for the WaveSub and confirmed its ability to travel long distances, MPS said.
FaBTest, considered to be a 'nursery' test site for wave energy converters, offers the opportunity for the device to be tested in a sheltered location and moderate wave climate as it is situated within Falmouth harbor, between 3 and 5 kilometers offshore in Falmouth Bay.
At the site, the WaveSub will enter the final phase of on-site commission based testing before being connected to the grid-simulation buoy for in-depth energy generational capacity testing across a range of sea conditions.
Preparations for sea-based testing of the WaveSub follow a decade of R&D for the device, according to the company whose full-scale device – at its 100 meters long and 5MW – will be able to power approximately 5,000 homes.
WaveSub – inside and out
The WaveSub comprises a series of cylindrical power capture floats and a rectangular reactor barge.
The power capture floats sit atop the reactor barge and all machinery, power and control equipment is housed on or in this barge. Four power take-off (PTO) lines connect each power capture float to the reactor barge. Taut mooring lines anchor the reactor barge to the seabed.
Designed to operate around 10 kilometers from shore, the WaveSub wave energy generator harnesses the continual orbital motion of waves under the surface of the sea.
The power capture float tracks the orbital energy path, allowing it to harness energy through the entire wave cycle. A depth adjustability mechanism – also used to protect the WaveSub from storms – enables it to move to an optimum generation depth in the sea.
The depth adjustability is operated by a control system, which regularly monitors the sea state like wave height and period – thereby adjusting the float and reactor depth to an optimum location for energy generation.
To generate power, the WaveSub's float tether lines are connected to hydraulic generators, so as the float moves with the waves, hydraulic energy is created. A hydraulic circuit then smooths this hydraulic energy and uses it to turn an electrical generator which outputs grid compatible electricity.