World's 1st 9X92DF dual-fuel engine ready for CMA CGM's boxship
CSSC Mitsui Shipbuilding Diesel Engine Co., a subsidiary of China Shipbuilding Power Group, has delivered "the world's first CMD-WinGD 9X92DF dual-fuel main engine" that will be installed on a 13,000 TEU containership owned by French shipping giant CMA CGM.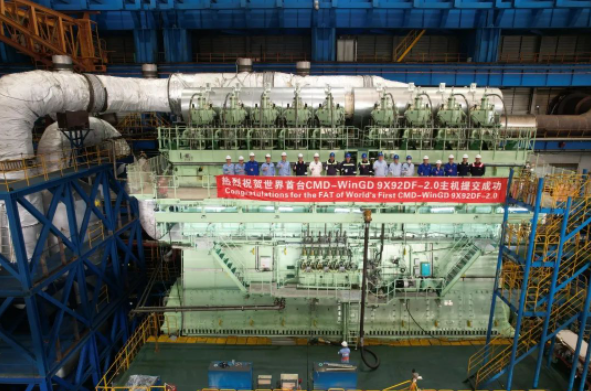 As informed, the company delivered the dual-fuel main engine on 13 March. Chinese shipbuilder Hudong-Zhonghua Shipbuilding has been contracted to construct the containership for the French liner.
The power unit is a second-generation model of X92DF which adopts the latest control exhaust gas recirculation technology (iCER).
According to the company, through this technology, the combustion and emission performance of the main engine is further optimized, and the fuel consumption rate could be reduced by about 5%.
Furthermore, the gas consumption rate is expected to be reduced by about 3%.
CSSC noted that, as of today, 26 sets of X92DF engines were ordered globally, all of which are under construction by CSSC.
CMA CGM's 13,000 TEU containerships are part of CMA CGM's $2.3 billion dual-fuel, LNG-powered containership order from April 2021, which was described as the largest single containership order in China's shipbuilding history.
The vessels are the second type of dual-fuel containership built by Hudong-Zhonghua and represent the latest generation of green, environmentally friendly, high-efficiency and energy-saving boxships.
On 9 December 2022, the shipbuilder started construction of the fourth unit in a series of six 13,000 dual-fuel ships.
CMA CGM has also created a Fund for Energies, backed by a five-year, €1.5 billion budget, to accelerate its energy transition and achieve Net Zero Carbon emissions by 2050.