World's biggest maritime cargo carriers join Safetytech accelerator
Some of the world's biggest maritime cargo carriers are joining forces with the world's first industrial safety technology accelerator to launch an innovation initiative to reduce cargo loss at sea.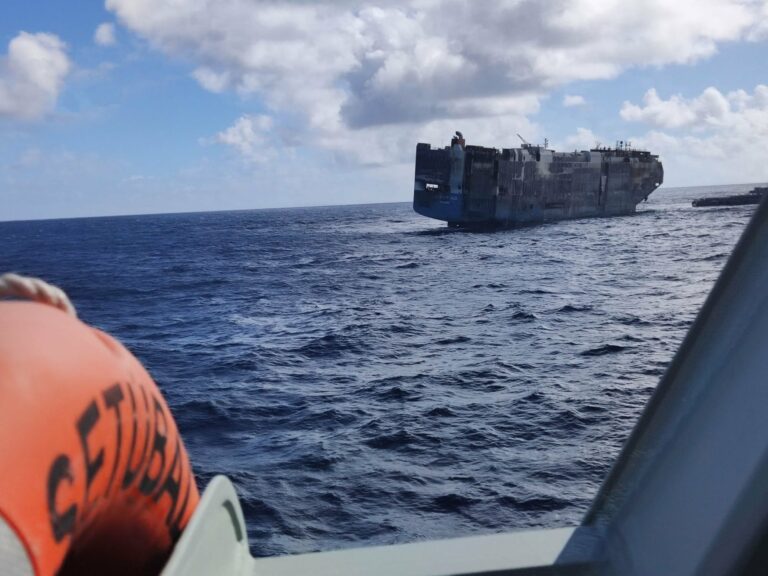 The companies joining the accelerator are Evergreen Line, HMM, Maersk, the Offen Group, Ocean Network Express (ONE), Seaspan as well as Lloyd's Register. The aim of the Safetytech accelerator is to find and advance technology innovations from across maritime and other industrial sectors to reduce the incidence and impact of cargo fires or cargo loss overboard.
The scale and breadth of the challenges facing operators are growing and continue to evolve. These include the increasing carriage of lithium-ion batteries either in containers or within electric vehicles on car carriers and the growth in complexity and size of modern container vessels. Fire and cargo loss at sea also creates the potential for significant environmental damage.
The Safetytech Accelerator Cargo Fire & Loss Innovation Initiative (CFLII) is a collaborative technology acceleration program that wants to address the issue by shaping joint requirements, identifying technology solutions, undertaking carefully designed trials, and developing best practices and recommendations.
The Initiative has a broad scope encompassing three significant topics of concern. The first relates to onboard cargo control, including whether cargo has been properly, loaded, secured, and monitored during transit. The second area covers the ability to detect fire onboard and stop its spread through effective onboard response, particularly on large container ships and car carriers. The third relates to the challenges created by the increasing scale of vessels.
"We're excited to start this initiative, working alongside the Anchor Partners to trial and adopt innovative technology for the prevention of cargo fires onboard, thus helping to make container shipping a safer operation. From LR side, the objective of the initiative resonates with our mandate to improve the safety of ships and crew, as well as protect the marine ecosystem," Global Containerships Segment Director at Lloyd's Register (LR), and Chair of the Maritime Cargo Fire and Loss Initiative, Nick Gross said.
"We are committed to talent training to help provide a safe, high quality working environment for our seaman. By participating in an enterprise such as the Cargo Fire & Loss Innovation Initiative we aim to work closely with all stakeholders to guard the safety of container shipping transportation," President of Evergreen Line, Eric Hsieh, said.
"The safety of our people is always of highest importance. Reducing the risk of cargo fires is accordingly a key priority for Maersk and the industry at large. The main root cause for cargo fires on container ships is the integrity of dangerous goods throughout the supply chain," Head of Marine Standards & DPA of Maersk, Aslak Ross, said.
"Therefore it is a problem that can only be improved through industry wide solutions and for that reason we are a strong believer in sharing of learnings across the industry to improve safety. The Safetytech Accelerator Cargo Fire & Loss Innovation Initiative is a good platform to bring stakeholders together to find new effective solutions to the problem of cargo fires."
"Safeytech Accelerator's mission is to help solve some of the most complex safety, risk and resilience challenges in the industry through open innovation and collaboration. Eliminating cargo fire and loss is a big challenge in the maritime industry and while accidents are thankfully infrequent, their impact can be extremely large. Together with the Anchor Partners we hope this new collaborative technology acceleration initiative will help industry make significant progress towards that goal," Managing Director of Safetytech Accelerator, Maurizio Pilu, said.
Global shipping losses
Data from marine insurer Allianz shows that during 2021, 54 total losses of vessels were reported globally, compared with 65 a year earlier. This represents a 57% decline over 10 years (127 in 2012), while during the early 1990s the global fleet was losing 200+ vessels a year.
The 2021 loss total is made more impressive by the fact that there are an estimated 130,000 ships in the global fleet today, compared with some 80,000 30 years ago. Such progress reflects the increased focus on safety measures over time through training and safety programs, improved ship design, technology, and regulation.
The South China, Indochina, Indonesia, and the Philippines maritime region is the main global loss hotspot, accounting for one-in-five losses in 2021 (12) and one-in-four-losses over the past decade (225), driven by factors including high levels of trade, congested ports, older fleets, and extreme weather.
Globally, cargo ships (27) account for half of vessels lost in the past year and 40% over the past decade. Foundered (sunk/submerged) was the main cause of total losses over the past year, accounting for 60% (32).
While total losses declined over the past year, the number of reported shipping casualties or incidents rose. The British Isles saw the highest number (668 out of 3,000). Machinery damage accounted for over one-in-three incidents globally (1,311), followed by collision (222) and fires (178), with the number of fires increasing by almost 10%.
In 2021, fires on board the roll-on roll-off (ro-ro) car carrier Felicity Ace and the container ship X-Press Pearl both resulted in total losses. There have been over 70 reported fires on container ships alone in the past five years, the report notes.
Fires often start in containers, which can be the result of non-/mis-declaration of hazardous cargo, such as chemicals and batteries – around 5% of containers shipped may consist of undeclared dangerous goods. Fires on large vessels can spread quickly and be difficult to control, often resulting in the crew abandoning ship, which can significantly increase the final cost of an incident.
Fires have also become a major loss driver for car carriers. Among other causes, they can start in cargo holds, caused by malfunctions or electrical short circuits in vehicles, while the open decks can allow them to spread quickly. The growing numbers of electric vehicles (EVs) transported by sea brings further challenges, given existing counter-measure systems may not respond effectively in the event of an EV blaze. Losses can be expensive, given the value of the car cargo and the cost of wreck removal and pollution mitigation.
Higher salvage costs, along with the burden of larger losses more generally, are a cost increasingly borne by cargo owners and their insurers. 
"'General average', the legal process by which cargo owners proportionately share losses and the cost of saving a maritime venture, has become a frequency event, as well as a severity event, with the increase in the number of large ships involved in fires, groundings and container losses at sea compared with five years ago," explains Régis Broudin, Global Head of Marine Claims at AGCS.
It was declared in both the Ever Forward and Ever Given incidents.  The large container ship Ever Forward ran aground in the US in March 2022, and was stuck for over a month before it was freed, almost a year to the day after its sister vessel, Ever Given blocked the Suez Canal.
Fire, collision and sinking, and damaged cargo are the top causes of marine insurance losses by value, according to Allianz Global Corporate & Specialty's analysis of more than 240,000 claims worth €9.2bn in value.
Inflation is compounding existing trends driving higher claims severity. Soaring prices for steel and spare parts and rising labor costs are impacting hull repair and machinery breakdown claims.
Supply chain issues continue to impact claims, as does climate change through extreme weather events and new exposures linked to the net-zero transition.
Decarbonization will require big investments in green technology and alternative fuels. A growing number of vessels are already switching to liquefied natural gas (LNG), while other alternative fuels are under development, including ammonia, hydrogen and methanol, as well as electric-powered ships. The transition to alternative fuels will likely bring heightened risk of machinery breakdown claims, among other risks, as new technology beds down and as crews adapt to new procedures, Alianz said.