World's first IMO Type B VLEC launched
The world's first IMO Type B very large ethane carrier (VLEC), Pacific Ineos Belstaff, has been launched at Jiangnan Shipyard in Shanghai, China, classification society American Bureau of Shipping (ABS) said.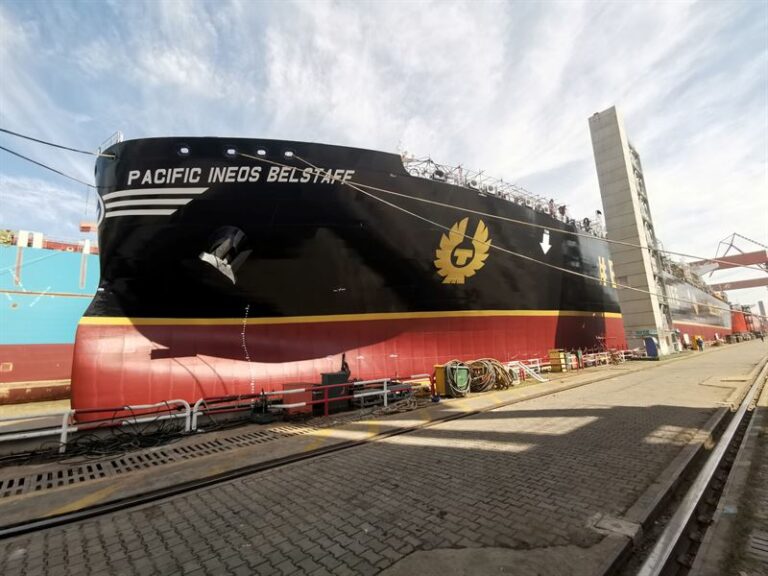 The first from a batch of four largest VLECs ever commissioned, the 99,000 cbm dual-fuel vessel is designed for long-haul ethane transportation but can also handle other liquified gas cargoes such as LPG and ethylene.
The dual fuel B-Tank ship quartet was ordered by China-based company Pacific Gas (Hong Kong) Holdings Limited. The first unit is slated for delivery in 2023, according to data provided by VesselsValue.
Designed to be efficient and more environmentally friendly, the vessels feature the Type-B cargo containment system "BrilliancE" developed by Jiangnan. It was built to the ABS class.
The design is the product of cooperation among engineers at Jiangnan and ABS during the conceptual stage, which resulted in ABS granting approval in principle in September last year.
As well as dual-fuel technology, the vessel is equipped with a shaft generator that can use ethane as fuel. The vessel's hydrodynamic line and internal space has also been comprehensively optimized.
"Launch of this vessel is a key milestone in the development of the industry. It's significant not simply because of its scale but in the flexibility, it offers operators to adapt to an evolving global marketplace," said Sean Bond, ABS Director, Global Gas Development.
"It is a giant step forward from a dream to reality. The first VLEC launching is not only a significant milestone in construction but also a landmark to prove the technical feasibility of our own-developed 'BrilliancE' Type B containment system," said Keyi Hu, Chief of Corporate Technology, Jiangnan Shipyard (Group) Co.