World's largest crane vessel set to remove Dunlin platform
Dutch offshore contractor Heerema Marine Contractors is moving forward with plans to remove the Dunlin platform from the waters off the UK after 45 years, using the world's largest crane vessel, Sleipnir.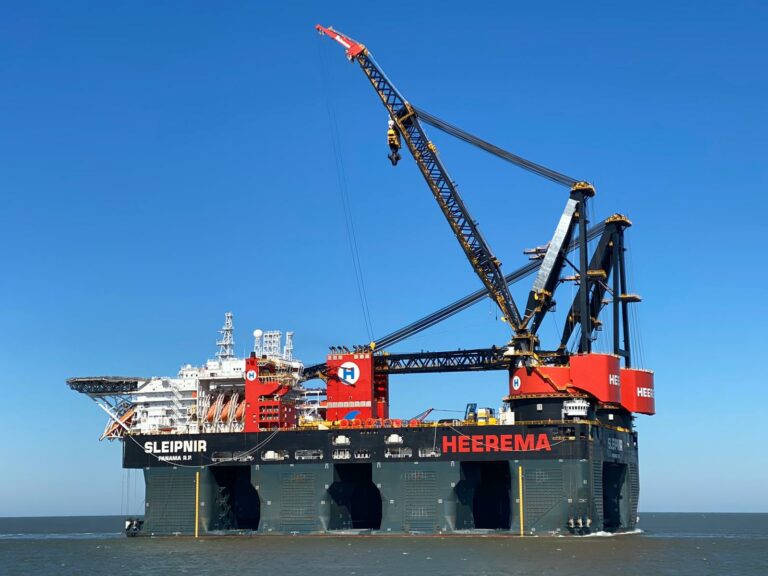 As reported by Offshore Energy in mid-April 2022, Heerema put the wheels into motion to decommission the Dunlin Alpha platform on behalf of Fairfield Energy. That is when Heerema's Thialf vessel started working on hook-down and removal activities, alongside Heerema's consortium partner, AF Offshore Decom. This work was to prepare for the Sleipnir vessel to remove the module support frame with a single lift.
According to an update by Heerema on Wednesday, the Sleipnir vessel has now arrived at the Dunlin platform. The company will be removing several smaller modules followed by the platform's massive module support frame with a single lift.
The platform was installed in 1977 and, after 45 years, it will now be recycled by more than 95 per cent.
The contract for the removal and disposal of the Dunlin Alpha topside was announced in September 2018 and awarded to Heerema and AF Gruppen in December of the same year. The contract included engineering, preparation, removal & disposal (EPRD) of the Dunlin Alpha topside with a total tonnage of approx. 20,000 tonnes. At the time of the award, the platform was expected to be removed and disposed of in the period between 2021 – 2024.
Fairfield's decommissioning plan for the Dunlin Alpha platform topsides was approved by the UK authorities back in May 2019.
The Dunlin Alpha installation served as the production facility for the Greater Dunlin Area and is located in UK Continental Shelf Block 211/23a, approximately 137 km northeast of Shetland and 11 km from the UK/Norwegian median line. Oil production was exported from Dunlin Alpha via pipeline to the Cormorant A platform, and from there by pipeline to the Sullom Voe oil terminal in the Shetland Islands.
Register for Offshore Energy Exhibition & Conference