Wuchang Shipbuilding bags deal for two chemical tankers
China State Shipbuilding Corporation's Wuchang Shipbuilding has inked a construction contract for two stainless steel chemical tankers, each weighing 25,900 deadweight tons, with Xingtong Shipping Co., a prominent name in the chemical tanker domain in China.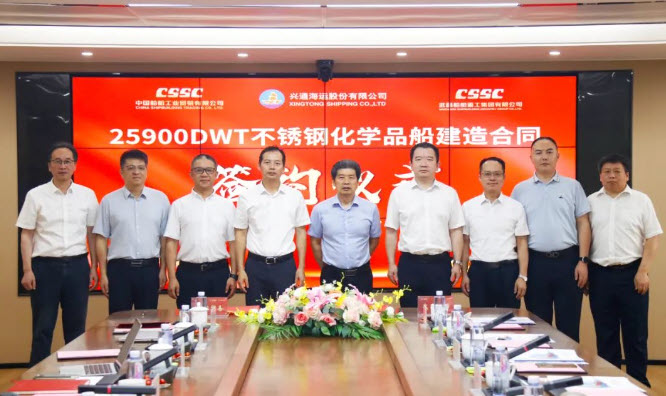 The agreement marks an initial partnership between the two entities.
The two chemical tankers are designed by Shanghai Odeli Marine Engineering Co. and classed by the ABS classification society as double-bottom and double-hull chemical tankers.
The ships will have a total length of 157.99 meters, width of 27 meters, molded depth of 14.2 meters, design draft of 9.5 meters, structural draft of 10.4 meters, and service speed of 14 knots respectively.
The shipbuilder said that the vessels will conform to Tier III and EEDI III standards, epitomizing a new generation of environmentally friendly, energy-efficient ships.
In recent years, Wuchang Shipbuilding has harnessed market opportunities to establish a mature chemical tanker development process, constructing 17 different oil and chemical ship types.
Moving forward, Wuchang Shipbuilding aims to embrace the new development paradigm, accelerating the creation of a new generation of stainless steel chemical tankers.