Zvezda launches new LNG carrier for Novatek's Arctic LNG 2 project
Russian shipyard Zvezda Shipbuilding Complex has launched a new ice-class ARC7 LNG carrier for the Arctic LNG 2 project.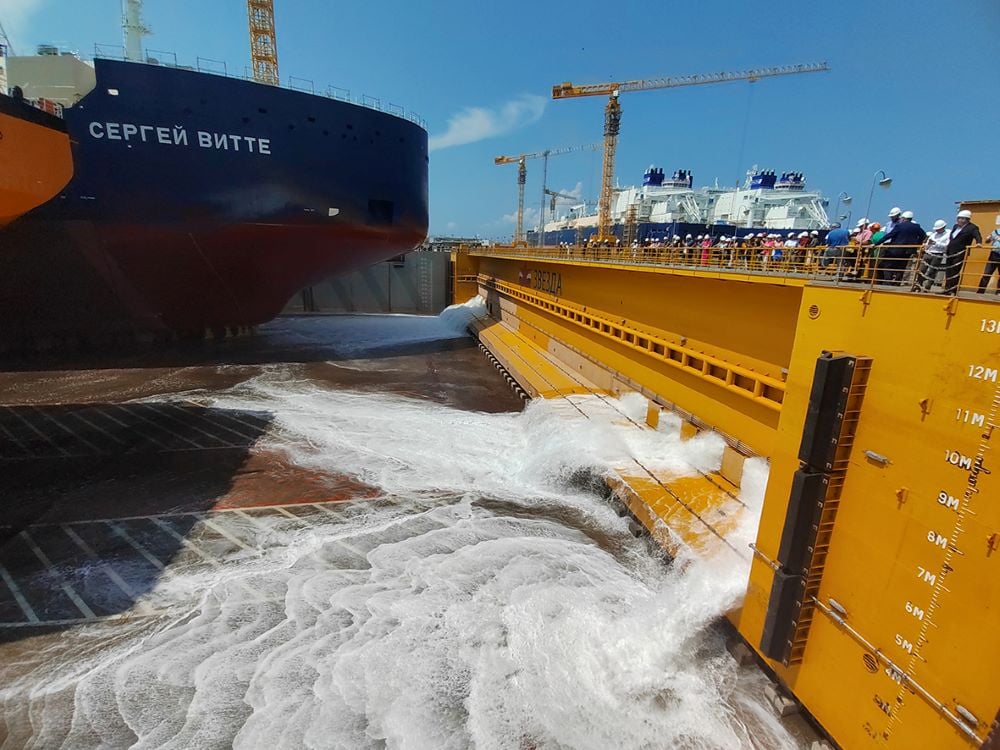 According to Zvezda, the vessel was named Sergei Witte and has a capacity of 172,600 m3. It is the third unit in a series of fifteen LNG carriers ordered by Sovcomflot and being built to serve Novatek's Arctic LNG 2 project.
The first two ships were launched earlier and are undergoing fitting work.
The LNG carriers in this series have a length of 300 metres, a width of 48,8 metres with a deadweight of 81,000 tons. The propulsion system consists of three azimuth units with a total capacity of 45 MW.
The ships will fly the Russian flag, operating under long-term time charter agreements between Sovcomflot (for a pilot vessel) and SMART LNG (a subsidiary of Sovcomflot Group and Novatek, for the remaining 14 vessels) with Arctic LNG 2 (a subsidiary of Novatek). 
Zvezda and the companies of the VEB.RF group signed the contracts for the construction of these ships from December 2019 to July 2020. The shipyard then began building the first ship in November 2020. 
Once delivered, the vessels will allow the year-round transport of LNG along the Northern Sea Route to the Asian Pacific region.
Located on the Gydan peninsula, Novatek's Arctic LNG 2 project includes the construction of three LNG trains, with a capacity of 6.6 million tonnes per annum (mtpa) of LNG each.
Follow Offshore Energy's Clean Fuel: