ADNOC in pact with KFUPM to explore R&D opportunities
The Abu Dhabi National Oil Company (ADNOC) has signed a framework agreement with King Fahd University of Petroleum and Minerals (KFUPM) to explore potential opportunities for collaboration in research and development, and development of a student-ADNOC graduates exchange program.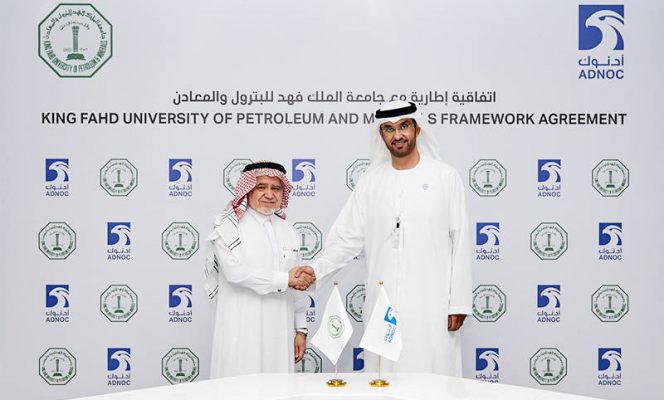 The agreement was signed by Dr. Sultan Al Jaber, ADNOC CEO and UAE Minister of State, and Dr. Sahel Abdujauwad, Rector of King Fahad University of Petroleum and Minerals, on behalf of KFUPM.
ADNOC and KFUPM will collaborate in research and development topics such as Enhanced Oil Recovery (EOR), field development optimization as well as oil and gas processing further downstream.
The agreement also establishes a mechanism that will allow ADNOC employees to undertake postgraduate education in key oil and gas degrees, courses and trainings at KFUPM.
Dr. Sultan said: "ADNOC continues to invest in innovative partnerships that enhance our research and development capabilities, and the education and training of our greatest asset – our People who are vital to the future success and prosperity of the UAE, Abu Dhabi, and ADNOC."
Dr. Abdujauwad said: "KFUPM is considered as a leading organization for science and technology in the area. Since its inception, it has focused on the different fields of energy and it has built an eco-system within which it has established a science park with multinational research centers in upstream oil and gas. It has also built a strong international partnership with many leading institutions and continued to extend the collaboration with institutions in the Gulf area. This initiative is one of the practical manifestations of the strategic partnership between the university and ADNOC.
"The university is interested in developing and activating strong technical partnerships with major companies, not only in the Kingdom of Saudi Arabia, but also in GCC countries. This agreement demonstrates a mutually beneficial, reciprocal and cooperative research and education partnership, in which the university represents a rich supplier of advanced research and educational experience, and benefits from the companies' latest technical developments to develop its curricula and courses and to enhance the knowledge of its faculty and researchers, in addition to providing professional development education for the companies' employees."
Established in 1963, King Fahd University of Petroleum and Minerals is an educational organization for science and technology in Dhahran, Kingdom of Saudi Arabia.
Related news
List of related news articles