Anemoi wins backing from Horizon Europe Guarantee fund
British wind propulsion company Anemoi Marine Technologies has won funding from the UK Research and Innovation's Horizon Europe Guarantee fund as part of its involvement in the Optiwise EU project.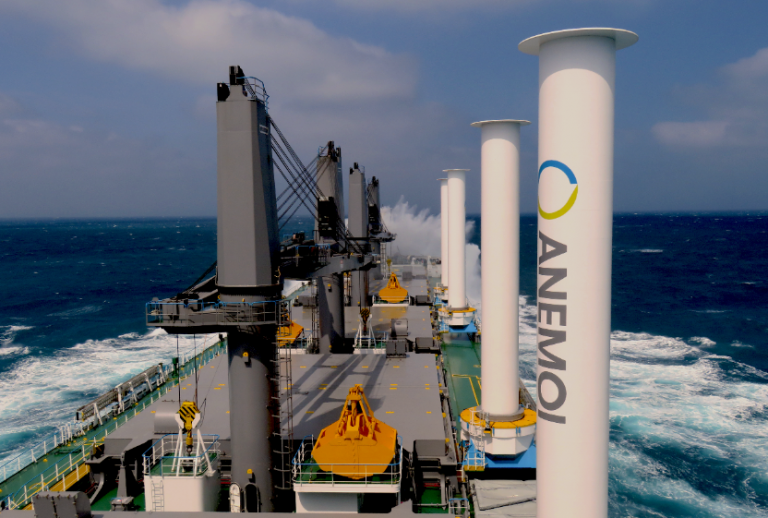 The Optiwise project aims to maximise the results of vessels using wind propulsion technologies, such as rotor sails. Anemoi is working with a global consortium of industry experts to realise this project.
The project will involve 3 demo cases of wind propulsion concepts, as well as a general design and architecture proposal and a novel energy management system linked to voyage optimisation for wind-supported vessels.
Anemoi has recently won approval in principle from the Liberian Registry for its rotor sail system.
The folding and rail systems were validated on a Newcastlemax bulk carrier design from SDARI and issued an AIP by Lloyd's Register. The Liberian Registry conducted a technical review of the documentation including Energy Efficiency Design Index (EEDI) calculations and, as a result, issued an AIP with estimated energy efficient improvements of about 20% in terms of EEDI performance.
Rotor sails, also known as Flettner rotors, are an energy-saving technology. The mechanical sails are comprised of tall cylinders which, when driven to spin, harness the renewable power of the wind to provide auxiliary propulsion to vessels which reduces fuel consumption and lowers harmful emissions entering the atmosphere by 5-30%.
The London-headquartered business has experienced significant growth of its business as interest in wind propulsion technology from the shipping industry increases as a viable pathway for reducing emissions and saving on fuel consumption. Some of the shipowners that have opted for the technology include Singapore-based dry bulk vessel owner Berge Bulk which has contracted Anemoi Marine Technologies to supply and fit two of its bulkers with rotor sails.
UKRI supports researchers and innovators who have been successful in Horizon Europe competitions but cannot receive EU funding due to delays to the UK's association with the program. With guarantee funding they can continue their work in research and innovation.
In addition to Anemoi, the recipients also include Rolls-Royce which is taking part in six projects as part of Horizon Europe's Clean Aviation Joint Undertaking, Tevva, the UK-based manufacturer of electric vehicles, the University of Manchester for a project developing a computer chip that works like an organic brain to see its physical surroundings, and David Armstrong, a researcher at the University of Warwick.
"The guarantee mitigates the challenges faced by our research and innovation communities during the delay to association by ensuring UK expertise is still able to participate. As a result, thousands of projects tackling vital research are going ahead and researchers and businesses in other countries are continuing to build Horizon Europe consortia with UK-based partners," Professor Christopher Smith, UKRI International Champion, said.
"In the meantime I encourage researchers and innovators across the UK to continue applying to open Horizon Europe calls. The Guarantee will support them if they cannot receive the EU grant they have been awarded."
The Horizon Europe Guarantee fund has reached an important milestone with more than £1 billion now awarded to UK-based researchers and innovators.