APMT, DP World: Port electrification is the fastest lane to impact. Hydrogen solutions an outlier, not the norm.
In the maritime sector, the quest for cleaner, more efficient practices has given rise to the electrification of ports and container handling equipment. Why, you might ask? The answer is clear, for electrification offers a trifecta of advantages that places it at the forefront of a green revolution: scalability, environmental responsibility, and substantial cost savings.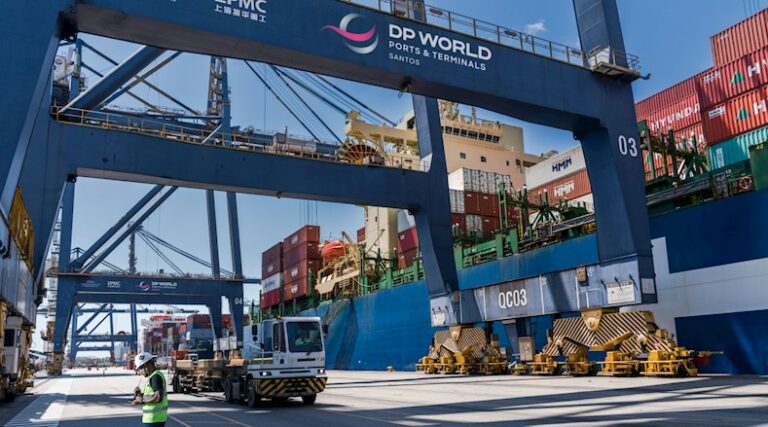 "The OPEC savings of changing to this technology could be as high as 50%. it's super significant in an industry with low margins and there are also other benefits as they produce less vibrations, there is less noise and there would be fewer emissions of particles because they are not emitted from electrified equipment," Keith Svendsen, CEO of APM Terminals, said earlier today announcing the publication of a White Paper launched jointly with DP Word, titled Reaching a tipping point in battery-electric container handling equipment.
As disclosed, the global fleet of 100,000-120,000 container handling equipment (CHE) is responsible for 10-15 million tonnes of carbon dioxide per annum, the equivalent of the annual emissions of Slovenia in 2020.
As explained by Svendsen, container handling equipment is the central cog in the machinery of global trade that is moving all our goods around every single day. Nevertheless, it is a very large addressable area where there are solutions in place now, he noted, adding that the white paper provides concrete things that the industry can do right away.
The White Paper says that the tipping point for battery-electric CHE can be reached within the next 2-8 years. However, this does require immediate action by terminal operators, OEMs of CHE, and public authorities, notably port authorities.
Speaking on the occasion, Tiemen Meester, COO of Ports & Terminals, DP World, said that the biggest obstacle that is preventing the industry from adopting electrified CHE is the total cost of ownership.
"It's a combination of factors. The purchase price is the biggest hurdle and that simply has to do with the lack of scale and lack of standardization," Meester highlighted, noting that switching to electrified engines also brings costs for adaptation of infrastructure, training and operating.
"All these things add up to a disproportionately higher cost of ownership and we need to turn this around," he added.
What about hydrogen?
Commenting on the potential of hydrogen to play a role in decarbonizing port infrastructure, Meester said that it cannot match the scalability of electricity.
"Some people are 'obsessed' about hydrogen and it cannot be dismissed. At least on paper, it looks like something viable if you can get the green hydrogen, that is. But it will only be available in the right quantities in a few places in the world. Therefore, you will see some hydrogen solutions, but they will be an exception rather than the rule," Meester said, adding that electrification is the key part of the puzzle and that it can offer the necessary scale.
DP World's COO further explained that hydrogen cannot be ruled out, but that it just not gonna solve the global issue of decarbonizing as it cannot be scalable to the needed levels globally.
"I think there will be a role for hydrogen, but it will be specifically in those locations where the green hydrogen is easily available. What we should never forget is that, at this point, the total cost of ownership for hydrogen is significantly above battery electric operations."
Challenges and solutions
As highlighted, another key obstacle that needs to be overcome is the long delivery times.
To usher in this transformative era, stakeholders from port authorities and governments, who hold the keys to port concessions worldwide, must adopt stringent requirements for new operations. Drawing inspiration from successful models in other industries, incentives can play a pivotal role in propelling technology adoption and accelerating the overall adoption curve.
Furthermore, standardization is a linchpin, with industry players urged to reach a consensus on battery technologies, charging infrastructure, and other pivotal components.
This alignment promises to expedite the reduction in the cost curve for production. To chart a clear course ahead, demand signals from the industry's major players are essential, guiding the renewable energy sources and equipment that will power these forward-looking ports.
"The equipment manufacturers of the world need a clear signal from people like me and Tiemen, and our colleagues on what kind of technology we are going to buy from them in the future, so they can start to scale up their supply chains and their production capacity," Svendsen said.
According to Meester, in addition to new concessions, extensions of the existing port and terminal concessions should also integrate electrification and decarbonization as part of the eligibility criteria.
Current activities
APM Terminals has set its sights on achieving net-zero emissions by 2040, with an interim target of reducing emissions by 70% by 2030. To make this a reality, it has outlined three pivotal levels of action to reduce emissions. These are optimizing current operations, electrification of equipment, and working on decarbonizing the energy supply.
Electrifying equipment alone is not sufficient if the source of that electricity is not environmentally friendly. APM Terminals said it was progressing towards utilizing green electricity to power its terminals, and it has hit a 40% mark across its global portfolio.
In Europe, all of their electricity is sourced from green origins. In locations where this is not possible, the company either purchases electricity where feasible or generates power from available rooftop space.
A similar situation is in DP World's case, especially for terminals in Europe, where the company's terminals avail of 100% renewable electricity, for example in the ports of Antwerp and Rotterdam.
"We also now see that same trend happening for us in Brazil, Chile, Ecuador, and in the UAE, where, very soon, our entire operations will be run on renewable electricity in terms of the container handling equipment," Meester said.
"There are a few places where you can't make the switch to electricity, so we venture out with a hydrogen hybrid solution, such as in Vancouver, where we invested in a next-generation shuttle carrier etc. So, you try to push as many buttons on as many technologies that you currently have."
Shore power
Shore power is a critical piece of the puzzle in the journey towards achieving net-zero emissions, according to DP World's COO.
Presently, the state of shore power availability varies significantly, introducing a challenge related to standardization and the complexities of integrating it with ships. The multifaceted nature of this issue is exemplified by the ambiguity surrounding the roles and responsibilities of various stakeholders, be it port authorities, regulators, or concession owners. Moreover, the financial aspects involved in implementing shore power should not be underestimated. Timon emphasizes DP World's commitment to advancing shore power in locations where they operate, pushing the boundaries to facilitate its adoption.
First step – dialogue
The CEO of APM Terminals emphasized the importance of engaging in a collective dialogue to solve the specific challenges faced by the industry in reducing carbon emissions, whilst also calling for the endorsement of the white paper as a way of providing clear signals to suppliers on technology needed, creating the necessary scale, and driving standards to ensure the production of cost-effective and efficient equipment.
"None of us actually are large enough to move the needle alone and therefore we need to solve this societal issue collaboratively," Svendsen said.
"The quicker we work together, the quicker this cost of ownership issue goes away and the quicker we can move on to solve the next problem. Therefore endorsing this really signifies a shared vision to take this problem on and solve it now."
"If we agree, as an industry, that the battery-powered container handling equipment is the next technology that will take us towards the net zero, then the question for the suppliers will be turning that into concrete plans, so the supplier base can scale up and actually solve the very real problem today, the difficulty of actually buying it because there's not enough of it."
DP World and APM Terminals plan to hold specific workshops on the outcomes of the paper, with hopes that industry stakeholders would join the electrification initiative.