Bore names its 3rd and final LNG-powered RoLo vessel
Bore Ltd., part of Spliethoff Group, held a christening ceremony for its third and final LNG-fueled shortsea roll-on/lift/off (RoLo) vessel in Amsterdam on 21 February.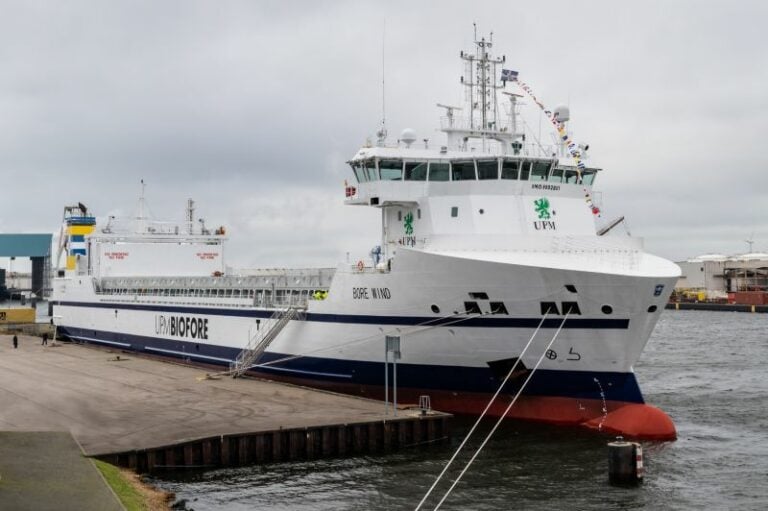 The vessel was named Bore Wind and it belongs to a series of three ice-class 7,000 dwt ships built at the WuHu Shipyard in China. The vessel is intended for a long-charter to Finnish forestry company UPM and will operate in the Baltic and North Seas.
 Dutch ship design and engineering firm Conoship International has designed the vessels, which have been classed by DNV.
The three ice-class Swedish/Finnish 1A ships are 120 meters long and 21 meters wide each and have a design speed of 15 knots.
The RoLo trio has been equipped with Wärtsilä's 34DF dual-fuel engines, driving a controlled pitch propeller (CPP) at variable speed, as well as 250 cbm LNGPac storage and supply systems.
In addition to LNG propulsion, the ships have been designed to be highly fuel-efficient featuring optimized and stiff hull while providing maximum cargo flexibility.
According to Bore, the vessels will initially run on LNG with plans to transition to biofuels as a drop-in, which is likely to be produced from paper and pulp manufacturing and other organic waste.
The second unit from the series MV Bore Wave was delivered to the company in November 2022.
In early January 2023, MV Bore Wave arrived in Bremen, Germany and Rotterdam, the Netherlands to unload containers.
After discharging its cargo, the vessel continued to Rauma, Finland to enter its charter for UPM alongside its sister MV Bore Way. The newbuild was named at the Rauma port on 3 February 2023.