Caterpillar Marine and Strategic Marine team up on emissions-reduction goals
Caterpillar Marine has entered into a memorandum of understanding with Singapore-headquartered Strategic Marine to support new solutions for emissions-reduction goals.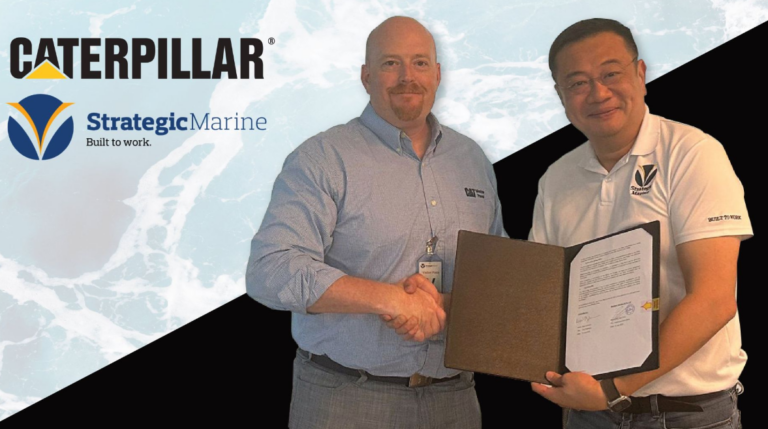 Strategic Marine Group is a global shipbuilder with a focus on specialty aluminium craft construction and fabrication. It has a shipyard in Singapore, and presence in Australia, Germany, Indonesia, the Middle East and the United Kingdom. 
For Strategic Marine, the drive and focus towards lower-emission propulsion right across the product range, from crew transfer vessels (CTVs) for the offshore wind industry to fast crew boats (FCBs) for the offshore oil and gas industry and other classes of vessels is part of its ambition of delivering sustainable solutions to the industry.
"We are excited to work with Caterpillar Marine to help lower emissions in the industry," Eng Yew Chan, CEO of Strategic Marine said.
"Our collaboration with Strategic Marine brings together immense expertise that allows Caterpillar Marine to innovate and support the ongoing energy transition. This is an exciting challenge to tackle, but most importantly it fosters our industry's goal to reach lower-carbon operations," said Brad Johnson, vice president and general manager, Caterpillar Marine.
"With our shared vision and Caterpillar's innovative technologies, we look forward to working with Strategic Marine Shipyard to advance the future for the maritime industry."
Global towage operator Svitzer, a part of A.P. Moller-Maersk, contracted Caterpillar in April this year to work on the installation of dual-fuel methanol engines on new tugs. The partners will also work on conversions of existing Cat powered tugs, which comprise the majority of Svitzer's fleet.