China's first hydrogen-powered ship embarks on maiden voyage
China has witnessed a breakthrough in its application of hydrogen fuel cell technology in inland waterway vessels with the maiden voyage of the country's first hydrogen-powered ship, the Three Gorgers Hydrogen Boat No. 1.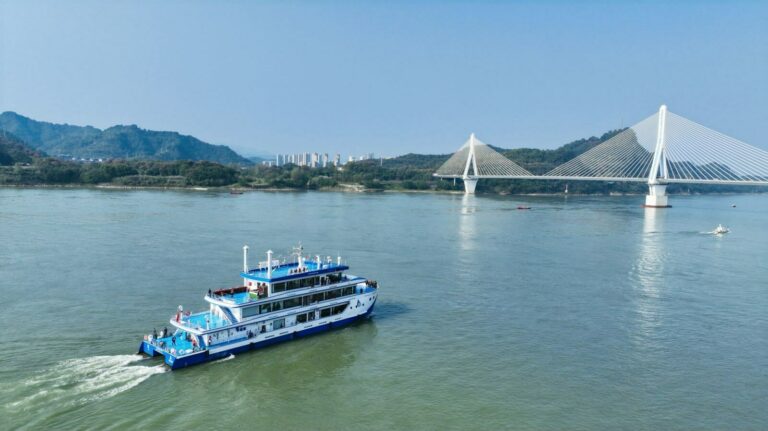 The vessel set sail on its maiden voyage in Yichang City in central China's Hubei Province on October 11, around seven months after its launch.
The vessel has a steel-aluminum composite structure with a total length of 49.9 meters, a beam of 10.4 meters, and a draft of 3.2 meters. Powered by a 500 kW hydrogen fuel cell in tandem with an 1800 kW·h lithium battery system, the ship has a maximum cruise range of 200 kilometers.
The inland catamaran is the first hydrogen-powered boat inspected and classed by China Classification Society.
The vessel was built by Jianglong Shipbuilding Co. Ltd. for Yangtze Power Co. and it will be used for transportation, patrol, and emergency response in the Three Gorges reservoir area and between the Three Gorges-Gezhouba dams.
To support the widespread application of hydrogen energy in the Three Gorges waters, China's Three Gorges Corporation has invested heavily in the construction of shore-based hydrogen stations to ensure the transfer of hydrogen to ships.
China's first inland dock-type hydrogen production and refueling station uses the clean electric energy generated by the Three Gorges power station to electrolyze water to produce hydrogen, which will be directly supplied to hydrogen-powered ships after compression, storage, and filling. The station can supply 240 kilograms of hydrogen per hour.