Danaos boosts its methanol-ready orderbook to 10 boxships
Greek containership owner Danaos Corporation has ordered the construction of two methanol-ready 8,258 TEU containerships set for delivery in 2026.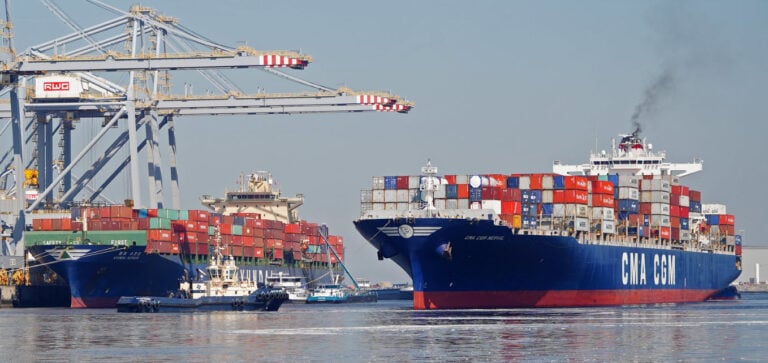 The company said the order was placed in June but did not disclose the name of the shipyard that secured the deal.
The latest order brings Danaos' newbuilding orderbook to 10 eco-design vessels, all methanol-ready, with an aggregate capacity of 74,914 TEU.
The first ships were ordered back in March 2022 from China's Dalian Shipbuilding, followed by an order for additional four methanol-ready boxships placed at Daehan Shipbuilding in South Korea in April 2022.
Seven of these are expected for delivery in 2024, and one vessel in 2025.
In addition, all ten ships will be fitted with Alternative Maritime Power Units and they will be compliant with the latest requirements of the International Maritime Organization in relation to Tier III emission standards and Energy Efficiency Design Index (EEDI) Phase III, the shipowner said.
"Danaos continues to advance its decarbonization strategy in multiple ways. We are constantly optimizing and retrofitting our existing fleet and have committed to upgrade around 20 vessels with new propellers, fuel saving appendages and low friction paints," Danaos' CEO Dr. John Coustas said.
"We have also expanded our new building program with the order of four additional newbuilding vessels. These vessels, two of which are 6,000 TEU and two of which are 8,200 TEU, will be delivered methanol-ready, ensuring the longevity of our investment. In total, we have 10 vessels, with a total capacity of approximately 75,000 TEU, on order. All of these will be able to utilize alternative fuels. Importantly, six of these vessels are already chartered for multi-year periods beginning on their delivery dates in 2024."
In addition, the company has inked an in-principle deal to buy 5 Capesize bulk carriers built in 2010 through 2012 that aggregate to 879,306 DWT for a total of $103 million. The agreement is subject to entry into definitive documentation. These vessels are expected to be delivered between September and October 2023.
For the three months ended June 30, 2023, the company reported a net income of $147.0 million, compared to $8.2 million for the same period in 2022.
Over the six-month period ending June 30, 2023, Danaos reported a net income of $293.2 million compared to $339.7 million for the first half of 2022, signifying a decrease of $46.5 million.
"The world economies stagnated in the second quarter of 2023, resulting in a gradual easing of the container market. Danaos active strategy in the current market conditions is made possible by the prudent approach we have taken to manage our balance sheet to conservative levels as well as our successful chartering strategy. The latter is reflected in our operating revenues of $241 million, which is near to previous records despite a charter market drop that is more than 50% lower than a year ago. We continue to be active in the charter market, highlighting the resilience of our business model, and secured nearly $500 million in new charter contracts during the quarter," Coustas said.
Investments
In the same period, Danaos made notable investments in its own stock, repurchasing a total of 1,080,547 shares of its common stock in the open market, amounting to $65.6 million, under its share repurchase program of up to $100 million, which was announced in June 2022.
Furthermore, Danaos acquired 1,552,865 shares of common stock of Eagle Bulk Shipping Inc., representing a 16.7% shareholding stake.
"We also deployed capital opportunistically, after identifying weakness in the dry bulk market, a market we are very familiar with. We believe the long-term fundamentals in the dry bulk market are very positive. In particular, the orderbook is at historically low levels, and fleet supply growth is projected to decline significantly over the next several years against a backdrop of rebounding demand. Short-term market sentiment is not as strong, and we were able to make investments at attractive prices," Coustas said.
Commenting on the Eagle investment, he noted that the purchase was made with the belief that the company had best-in-class corporate governance practices at a significant discount to Danaos' perception of the company's net asset value.
However, shortly after the investment, the Board of Eagle implemented a poison pill and repurchased Oaktree Capital's 28% stake in the company at nearly a 35% premium to Eagle's 45-day average share prices and a 32% premium to Danaos' cost basis.
"These transactions, which were done by Eagle's Board fundamentally alter our view of Eagle's corporate governance," Coustas warned.
"We are concerned with these developments and are seeking clarification from the Board of Directors of Eagle. As Eagle Bulk's current largest shareholder, we have a strong vested interest in seeing the company enhance long-term shareholder value and believe that we have a duty to speak up when we think the Board and/or management may be acting outside the best interests of all shareholders. Accordingly, we are committed to working constructively with the Board to identify balanced, well-considered, and effective methods to enhance shareholder value on behalf of all shareholders."
With respect to the company's interest in the dry bulk market in general, Coustas explained that Danaos has significant experience in the dry bulk market as an owner and operator.
"We exited the segment years ago, which was a well-timed decision in hindsight, and now we again see opportunity. Given the strength of our balance sheet, we are uniquely positioned to deploy capital in various ways to grow our revenue base and earnings. Our fleet of container vessels, which are contracted on multi-year charters, provides strong revenue and cash flow visibility. While we will continue to grow and future-proof our core fleet by adding next-generation vessels to it, our ultimate goal is to generate value for our shareholders, and we will consistently pursue the best opportunities to do so," he noted.
Danaos increased its contracted revenue backlog by approximately $469 million through the arrangement of new charters for 12 containerships within its fleet during the last three months. As a result, Danaos' total contracted cash operating revenues reached $2.5 billion.
Looking ahead, Danaos is well-positioned with contracted operating days charter coverage for its containership fleet at 99.4% for 2023 and 86.1% for 2024. Finally, in light of the financial performance, Danaos announced a dividend of $0.75 per share of common stock for the second quarter of 2023.